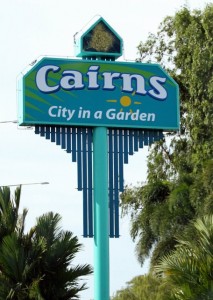 Oh man.  That sore throat turned out to be a doosy.  I'll spare you the details of last night.  It wasn't fun.  Poor Andrea for having see me suffer.  And poor people in the next hotel room.  We could hear them coughing throughout the night.  I'm sure they got an earfull from my fun.  Sorry neighbors.
For Andrea, it was 4 hours of driving to Cairns (pronounced "cans").  For me, sleep.  So not too many photos for the gallery today.  During this drive, we definitely are in the tropics.  It's pretty, green, and full of sounds.  We also saw some sugar cane.  Ok, I'm lying.  LOTS of sugar cane.  And why don't we top off that sugar with some bananas.  Yep, think 4 hours of green and 4 hours of sugar.
Now that I'm feeling a bit better, I'm looking forward to tomorrow.  It's a day off.  No more driving, just a day where I get to sleep in, and then we'll stroll the beaches, and hit the shops.  Then it's back here to rest and sleep some more! 🙂  I'll need to get all the energy back I can because Tuesday we're off on a boat to spend spend two days on the Great Barrier Reef.  I just hope I'm ok to dive and see all the fishies.  Sinsuses and ears are ok, so I should be good to go.
Now it's time for a nice hot shower and hit the sack.  9 out of the 10 showers have AWESOME water pressure.  Still have yet to find a toilet that flows one way or antoher.  Ugh. 🙂