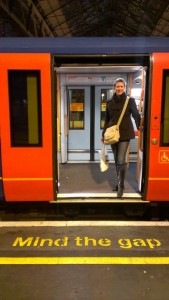 Mind The Gap! Even if it's just the gap between the dates we traveled, the dates we posted the photos, and then finally the dates we added some more commentary! It's been a busy year-end!
Wrapping up a crazy-busy year with a long-planned and multiple-times-postponed trip to London, we're leaving San Francisco just a day before the Thanksgiving holiday, and with limited flights available remain unsure about whether or not we will actually make it until the gate agent at SFO finally calls our names. [Hint: row 65 is not in the back of the plane!] We're getting upgraded to Upper-Deck Business Class to LHR!
As we arrive at London Heathrow the next afternoon, Sabine is ready for pick up, in full British Airways uniform, and ready to start her long weekend off as well. And what better way to start than with a quick stop at the German Bakery food truck! Then we're checking in at Sabine & Jon's house in Egham, and enjoy a relaxing evening.
Thursday is our first day of sightseeing and the tube takes us downtown, where we enjoy the sights of London. Tower, Tower Bridge, a ride on a historic double decker bus past St. Paul's cathedral. Then lunch at "Herman ze German", a German sausage place, before we head on to the Westminster, the Houses of Parliament and Big Ben. Catching a glimpse of the London Eye, Downing Street #10 and Pall Mall, followed by a turn towards the "royal sights", including St. James' Palace, Clarence House and Buckingham Palace.
Friday's program keeps us outside the city limits, with a visit to Brooklands Museum, where we get to tour the Concorde! Then we're headed to Windsor, where we explore the town & parks around Windsor castle after a typical  English lunch – Fish & Chips & Mushy Peas.
Later this evening, my parents Heidi & Rainer join us in London. Having flown in from Vienna for the weekend, "the bigger the crowd the better" is our motto for the next 2 days of sightseeing!
Come Saturday morning, Sabine & Jon, Mom & Dad and Kirk & I are heading into London again, by train this time and soon getting into Waterloo station. Just across the River Thames is Westminster again, where we're all making our way into Westminster Abbey to be impressed by the it's size, history and importance.
Then we're heading towards East London. Only a few years ago just a poor part of the city, it is now home to the Olympic Park (2012 Summer Olympics), where we're about to learn everything there is to now about this change on our walking tour. Despite the heavy rain and miserable temperatures, the group is almost 30 people strong, everyone eager to hear about this new history of London.
Dinner cannot come soon enough after this cold day, and we're all enjoying the meal at the Rose & Crown pub in Thorpe.
The weather has returned to sunny (yet still cold) when we all get up & out again on Sunday morning, to explore Greenwich. We pass the Cutty Sark, an impressive old sailboat (ok, ship) forever on dry land now, before exploring the Maritime Museum first and then climbing the hill to the Greenwich Royal Observatory next. It's the zero meridian (0.00.0 Longitude) that brings most visitors here, and everybody gets a photo taken "on the line", We're no exception!
After lunch back at the museum, we're heading towards the newest piece of public transportation in London – the Emirates Air Line (gondola) across the Thames River. It's getting dark as we cross over, and we get to enjoy the lights of the city and the O2 Arena (formerly The Dome).
After a family dinner back at Sabine & Jon's house it's almost time to say Good Bye again, as we'll all be flying out Monday morning again. Short but sweet … and we'll definitely be back!
And now, enjoy the photos below…