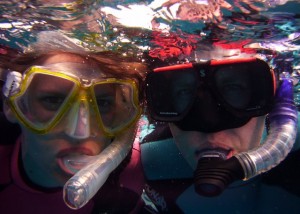 We're beat.  Two days of sun and salt water.  I can't get the salty taste out of my mouth and I've showered and brushed my teeth twice.  Anyway, we had a really great time.  I did an "introductory dive" since I'm not certified.  Basically all I had to do was breathe and kick, and the dive instructir did everything else while holding on to me.  It felt like a slow ride at Disneyland and it was cool.
Andrea, the "certified one", went for two dives and she had a blast as well.  The rest of the two days, we snorkeled… which was actually just as good, if not better.  We saw sharks, stingrays, a sea turtle, and tons of the most colorful fish you only see at fish stores. The reef was awesome.  Actually, The Great Barrier Reef consists of over 2000 reefs.  The one we saw was Flynn Reef.
Andrea will post all the fun details of our excursion later.  But, for now we're pooped, and going to bed!  We'll get the photo gallery uploaded in a few minutes.  Enjoy.