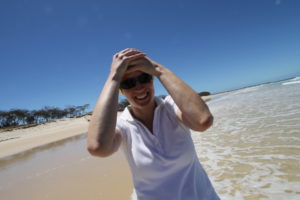 Only 2 words for today (actually 3): Fraser Island and Driving.
When I called the dive boat company this morning to reconfirm our 2-day trip for next week, I was told that we were the only 2 passengers for the 10-passenger boat for Tue/Wed, and unless 2 more would sign up, our boat would not leave.
To ensure we get to go, we were offered to switch to the 3-day tour starting Monday – at the same price! Whoa, what an offer. Only obstacle: we're still about 1,800 km away from Cairns, with only 3 days left. To do or not to do … With no definite stops planned for the route between Nambour and Cairns, we decided to go for the Monday departure and squeeze more kilometers into the remaining 3 days (instead of 4).
Since we did not want to do just driving, we took a detour to Rainbow Beach and the Great Sandy National Park. This is as close to Fraser Island (the world's largest sand bank/island) as you can get without a 4WD car. Enjoying the warm water on the bay side of Inskip Point, and later the not-as-warm waters of the Wide Bay – Pacific Ocean side of the peninsula, we soaked up the sun & energy for a long drive ahead.
After Kirk had been driving the last couple of days as well as the first 2 hours of this morning, it was now my turn to get us through the rest of the afternoon. Adding up all parts of today's drive, we completed 622 km in 7 1/2 hours. A beautiful drive – check out the photo gallery for some nice shots.
Highlight: we actually saw our first 2 **wild** kangaroos!! Just before dusk, sitting along the highway, waving as we passed by.