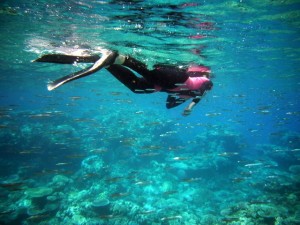 Even on a boat, you need to be healthy. So we made sure to get our share of veggies. Cucumbers to be exact. Sea Cucumbers. What? They're not a veggie? Hmmm … well, anyways, we had plenty of them. At the Flynn Reef, our "home"for the past 2 days!
Welcome to our Day 12 & 13 experience: The Great Barrier Reef!
After being on a transfer boat from Cairns Marina to Moore Reef (operator: Marine World) from approx. 1 1/2 hours, we jumped on a tiny rubber boat that would get us to the waiting "Santa Maria", a wooden sailboat which would be our base for 2 days and 1 night.  Sean, our skipper, was also captain of the rubber boat (not quite as impressive, but who cares – if was only a couple of minutes!) and introduces us (Kirk, me) and Don (from Virginia, US) to the passengers already on board from the previous day (Marlies and George from The Netherlands, Satome and Ed from California, US), as well as to the rest of the crew (Jonny, the dive instructor/guide and Jill, our chef).
We left Moore Reef to head further away from the masses of day trippers, to the Outer Barrier, Flynn Reef to be exact. Here,we anchored for the remainder of the day and the night. A great site to be, regardless of whether you are a snorkeler or a diver! Just a few feet from great Corals, millions of fish – and as mentioned previously: sea cucumbers!
The advanced divers (Don, George and I) went on our first dive with Jonny after lunch, while others went snorkeling. Kirk – eager to get, not just in the water, but fully under it, too – was ready for his his try soon after I got back from my first dive. An introductory dive allowed Kirk to experience the diving "for real", without all the classroom stuff and practice before. Jonny showed him how to kick, breath, and clear his mask & reg, and off we went. I was the official photographer for this event, and you can see the results on the Photo Gallery! Kirk had a great time – positively impacted by the following sightings: a stingray (even for me a first!), a white tip reef shark, and a sea turtle! And those are just the "big" ones! Not to forget about the fish, and fish and more fish (names I would have to look up on my dive log just to find a few)! And colorful corals! What an impression! I think a new diver was born (hint, hint).
After that dive, we were pretty much done for the day! Quite exhausting to take in all the beautiful views! While the other folks on the boat went for more dives/snorkels/swims, Kirk and I spend the rest of the day relaxing. And eating. (Have I mentioned that there was food? Whenever I felt that I was getting a bit hungry and could go for a snack, out of the galley (is that the right name for the kitchen on a boat? Die Kombuese = German) came Jill with fruit or cookies or cheese for snacks or a full meal if it was time. Yum!
Sleeping on the boat also went better than expected. The water was somewhat calm and nobody fell overboard 🙂 over night!  The next morning (day 2) Kirk and I decided to skip any further dives and go snorkeling together instead. Sean had moved the boat to a different location on Flynn Reef, which proved to show even more colorful corals, bigger fish, etc! We took tons of photos (see the Photo Gallery) and a few videos (to follow), so you'll be able to get a bit of an insight, too.
After an early lunch, it was time to head back to Cairns, given the distance (a 4 hour "sail").
I am not sure what had come over me to book this specific trip/charter – I love diving, especially off a boat in the middle of an ocean. But given the fact that I get sea sick (every time), picking the smalles boat out there (10 passengers max) was quite a challenge on my body. Needless to say, I had some tough moments (ok, 1). But other than that, this was the perfect way to explore the reef. Small boat, few people, individualised attention, an awesome crew, great locations for diving/snorkeling, and lots of fun!