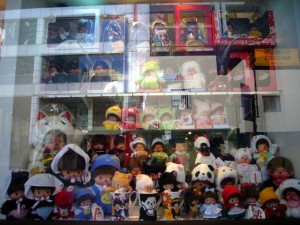 Finally, on Day 15, we got to do one of the most important things: souvenir shopping! 😉
With high expectations on our trip, Christmas just outside our door step and usual gift shop addictions, we had to go out and spend some $$. After a really slow start in the day (we almost missed our free breakfast in the executive lounge!), we decided to check out Sydney's Chinatown, just a few blocks from the hotel. Starting with lunch (just, a full belly makes for better shopping) and a visit to the ATM, we were well prepared for the indoor & outdoor shops in this quarter.
Not yet completely done with our task after Chinatown, we headed straight into the "Market City" (Paddy's Market), a market hall the size of an exhibition center, filled with booths after booths of souvenirs, purses, unknown health products, T-Shirts, more souvenirs, stuff that nobody needs, more souvenirs and even more stuff that nobody needs! My heaven!
The bags on my arms were starting to get a bit heavy, so we decided to drop them off before heading out again. (Quick stop in the executive lounge again for afternoon snacks.) A stroll through Hyde Park, with the Anzac Memorial, statues for Captain Cook, Prince Albert and Queen Victoria, a color-changing Christmas Tree (between palm trees), fountains and more lead us to St. Mary's Cathedral, the Hyde Park Barracks and St. James church.
With the day almost over, we made our way back to the hotel, were we had a drink before calling it a day. In my opinion as a tour guide: a total waste of a full day, better used for sightseeing. in my opinion as a 2nd time Sydney visitor: a perfect day spending money on stuff that nobody really needs, but can't live without.
What a way to end a great vacation!