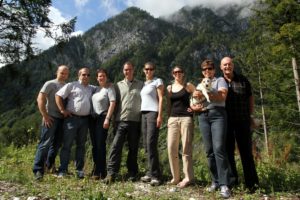 After almost 2 ½ years in California, I figured it was about time to visit the home land again … and with my parents' 40th Wedding Anniversary coming up, the dates were pre-set for this trip to Austria!
All our photos are packed into the "Super Gallery" post following this one – and I will guide you through the highlights of our 9 day adventure with my summary below. Have a seat and start reading …
Day One ~ Tuesday, August 03, 2010
Kirk and I booked a premium stand-by ticket for the British Airways flight to Europe, took a week off from work and on August 03rd, we got on our way.
A cab would take us on the first (short) stretch – from the 80°F summer of Dublin to an all-inclusive summer (weather-wise that is) in Austria. BART got us to the airport in San Francisco (SFO) … where Kirk did make an attempt to bailout from the trip just as the train was ready to leave, but fellow passengers would jump in and help me pulling him back in. No way out (Es gibt kein zurück!) … I'm not going alone.
Sabine had hooked us up with Business class tickets (still on standby status), and when we got to the gate, we were offered with what every standby traveller has to expect: a possible bump off the planned flight! Actually, we were offered to stick with the 1st flight and get jump seats (no way!), or wait for the later one (2 hrs) and get guaranteed seats in Business. Tough choice. We went to get a late lunch/early dinner (since neither one of us had eaten yet) and waited for the 7pm flight. Check out the legroom on seats 17D+E … well worth the wait.
Day Two ~ Wednesday, August 04, 2010:
Missing our original connection in London Heathrow (LHR), we got a first hand experience on how the standby process works – and the hospitality of BA ground staff. Sabine was already on her way to Vienna by the time we got to LHR, so no personal ushering for us. But Tina & Charly were still ready to pick us up at Zürich airport (ZRH) – and within only a few hours, Kirk and I would make our trip through 4 countries (US, UK, CH = Switzerland and A = Austria).
A little late for any pre-planned dinner locations, we stopped at the Schnitzel Bär in Hohenems, just minutes before getting to Tina & Charly's place in Götzis, Vorarlberg (Austria has 9 states, this being the most western one).
While my "goal" for this trip was to eat typical Austrian food every day (accomplished), Kirk had set the challenge to taste (and finish) as many different beers as possible (accomplished as well, there will be a separate post on that).
Day Three ~ Thursday, August 05, 2010:
Big plans for the first day here – and with everyone pitching ideas, the day soon seemed too short to fit everything in! First task at hand: sightseeing in Götzis! After all, I used to live here for 2 years and Kirk needed to be shown around! Tina has lived in this typical Ländle (= Vorarlberg) town for 17 years and with Charly in their new condo for about 3. No rain can stop us (drench us: yes), and soon we continued on our tour.
Crossing back into Switzerland only to come back to Austria and ask for a stamp in Kirk's passport (a negative since Switzerland joined the Schengen area where no more border controls exist), was followed by a more successful visit of the Seebühne in Bregenz, an open air stage on the Bodensee (Lake Konstanz) where famous operas are performed (this year: Aida). Then it was time for a snack, before heading down memory lane once more – driving by the Bogensperger house in Meiningen (the western-most town in Austria) where we all lived in the early 90s, and stopping at my old high school (BORG) in Feldkirch.
The afternoon had been kept open for a long overdue visit with my girlfriends from high school, Christine, with son Felix, and Tiara, with daughter Florentine.
Before calling it a day, we decided that 1 more country could easily be added to Kirk's list of European travels, and off we went to cross the border into Fürstentum Liechtenstein (FL). One of the smallest countries in Europe, this tiny place is tucked in between Austria and Switzerland, and within only a half hour drive, we got to see most of it!
Day Four ~ Friday, August 06, 2010:
Driving was the main goal for the day ahead of us. Given the torrential rains over the past 3 days, freeways and major roads were closed due to flooding, and we got started earlier than planned to avoid morning traffic. It wasn't even 7am when we left Götzis to get on the road – and got some nice glimpses of waterfalls where there are none usually, creeks-turned-to-raging-rivers and more.
With minor delays, we made our way across the border into Germany (D) and soon were flying along the Autobahn with speeds of 105+ miles per hour.
About 6 ½ hours later, we arrived at our destination: Gablitz, Lower Austria (Niederösterreich, another state, in the east of Austria), and just a few miles outside Vienna. Here's where the Bogensperger family home stands and my parents – and my dog – live. Lunch was served when we got there and finally, the whole family was together again: my parents Rainer & Heidi, my sisters Tina – with boyfriend Charly – and Sabine, my brother Phillip – with girlfriend Pascale, Kirk & me, and Ben – my dog!
The opportunity for a family portrait was not missed, and an hour of the afternoon was spent at the photographer's to get that accomplished.
As for the evening – Kirk and I had plans to meet up with some of my friends from Vienna, and despite the short notice, we got a group together for dinner & drinks at the Brandauer's Schloßbräu in Vienna: Christl, Maria, Verena, Katja and Axel plus the 2 of us.
Day Five ~ Saturday, August 07, 2010:
*** Happy 40th Wedding Anniversary! ***
To the day exactly 40 years ago, Rainer & Heidi got married. What a looong time! And what a great reason to get the whole family together!
Their special day got started with a family breakfast, followed by a day in the city … Vienna that is (Vienna is also a state, and the capital city: Wien). A tour of my condo in Meidling (12th district) was on top of the list for Kirk and I, followed by a visit if Phillip's new place (still 2nd district), and then we went off to the real city tour.
Taking the Bim (street car) around the Ringstrasse gave us a great overview of the main sights of the city. About halfway around, we got off to explore the inner city on foot. Parliament, City Hall, Volksgarten, Heldenplatz, Hofburg, Kohlmarkt, St. Peters Kirche, Graben and Pestsäule were only the beginning. After a refreshing snack at the famous Café Hawelka, we were ready to climb the South Tower of St. Stephen's Cathedral (Stephansdom). All 343 steps. Up, gorgeous view, back down. A stroll past the Anker Uhr, Hoher Markt, Griechenviertel and Fleischmarkt got us to the Stadtpark with the famous Johann Strauß statue, and back to the U-Bahn (subway), which then brought us back to the suburbs.
There we met up with the rest of the family again (we had lost a few along the way) to drive out to Neustift am Walde, a part of Vienna known for its Heurigen – a typical Austrian vineyard restaurant. At the Fuhrgassl-Huber is where we had dinner and toasted to my parents' 40 years of marriage!
Day Six ~ Sunday, August 08, 2010:
You may think that we'd had a packed program already, but today was the day we really got this trip started. To show off the best parts of Austria, I had picked 3 main spots to go to, and the 1st one was coming up today.
After breakfast, the 8+1 of us (all except Pascale) took off heading south. Leaving Lower Austria and Vienna behind, we approached the next state on the list: Styria (Steiermark). Entered by crossing the Semmering mountain (a famous ski area just 45 min south of Vienna), we enjoyed the green hills & mountains of the area, while getting closer to our destination: Erzberg.
Nestled in between high mountains, the town of Erzberg exists around (or at the foot of) the Erzberg mountain, with its huge iron ore mine – worked above and below ground. We got all suited up and took our below ground tour of the mine (a reserved area with no active work going on anymore). After returning to the light of day, we got on a big truck (see for yourself just how big it is) and got to see the above ground sights. Very impressive and massive!
With the end of the day drawing near, we then headed north through the Nationalpark Gesäuse, driving along windy roads and the Enns river. This would eventually get us to Liezen, our overnight stop, where we took over a large portion of the Hotel Schnuderl.
Day Seven ~ Monday, August 09, 2010:
In the heart of Austria, we got to enjoy more scenic driving as we left the next morning, heading north-west, through Bad Aussee ("the center of Austria") and across the state border into Upper Austria (Oberösterreich).
Just a few miles beyond is Obertraun, a small town situated between the Dachstein mountain and the Hallstätter See. This was today's main attraction … or actually the Dachstein Höhlen (caves) in the "Welterberegion Hallstatt-Dachstein Salzkammergut". Discovered 100 years ago, the Ice Cave and the Mammoth Cave are 2 of the largest (explored) caves in the world, and a spectacular sight to see. A gondola will take you up the mountain, from where it is only a 20 min hike to the entrance of either cave (on opposite sites). Explorers that we are, we had signed up for both, and – with Ben in the backpack ready to be carried around – we went off to get the first tour.
The Ice Cave shows off incredible ice sculptures, rivers and even an ice cathedral – all at an almost constant temperature of approx. 40°F. Back out in the mountain sun, we took a few moments to warm up again, before heading to the 2nd cave. Mammoth Cave is named for its size, not its inhabitants. Otherwise its name would be something like eyeless-see-through-mini-bug cave. A bear skeleton had been found by the first expedition into the cave, but the poor guy had just fallen asleep and not been able to get back out.
With this adventure under our belt, we took the next ride up on the gondola, to reach the top of the Dachstein. From there, a half hour hike got us to the new "Five Fingers" viewing platform, just recently completed, and nothing for people with fear of heights! A spectacular view of the surrounding mountains, Hallstatt and the Hallstätter See below awaits.
Soon it was time to get back & ride the gondola down to the valley floor. After dinner in Obertraun (it would be our last dinner in Austria!) we headed north along 3 lakes: Hallstätter See – crossed into Salzburg (state) – Wolfgangsee and Fuschlsee, with beautiful vistas, before getting into Salzburg (city). We soon reached the evening's destination, our Hotel Mercure – City.
Day Eight ~ Tuesday, August 10, 2010:
Already our last day in Austria! And yet, so much more to see!
After breakfast in the downtown pedestrian area of Salzburg – near Mozart's birth place – we headed past the Salzburger Dom and up the Mönchsberg (via Funicular) to explore the fortress: Festung Hohensalzburg. A tour provided insight to the history of the castle and the area, and the view from the top of the hill provided some nice photo ops.
Just around noon, it was time to get back to the car, and after a short stroll through the city we were on the road again – heading east towards Vienna.
No visit to Austria is complete (for someone who grew up near Napa Valley, i.e. Kirk) without a drive through the beautiful Wachau valley. Between the cities of Melk in the west and Krems (where I went to college!) in the east, the famous Wachau wine region unfolds on both sides of the Danube river valley.
But then it was time to head to the airport (VIE), where Sabine, Kirk and I were set to catch the evening flight to LHR on British Airways. Saying Good Bye was easier said than done, but after a busy week sightseeing the gems of Austria, Kirk & I were ready to head back.
Day Nine ~ Wednesday, August 11, 2010:
Sabine got the opportunity to show off her brand new place (a garden cottage in Windsor!) as Kirk & I stayed overnight at her home, with personalized shuttle service from & to LHR!
After a quick stop at the local walk-in clinic to get Kirk checked out (no trip is complete without him getting sick!), we headed to the airport on Wednesday morning. In no time we were checked in, and soon after also got confirmation that we were on the first flight out … headed back to SFO. And yes, again in Business Class!
Once we got back in the US, it took only a BART ride to Dublin, and a short trip in the cab before we were home again. Exhausted and happy to be here.
Enjoy the "Austria 2010: The Super Photo Gallery (405 Photos)" post with our best-of selection from all 3,200 pictures taken with our 2 cameras!