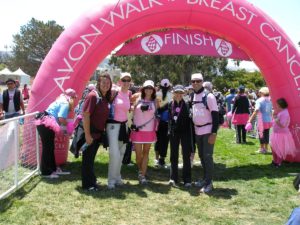 Sunday, July 10, 2011 –  Day 2
Yes, it's a bit harder getting up on Day 2. Not so much the waking-up part as literally the getting-up. As in stiff muscles. And some blisters. But "blisters don't need chemo"! (That's just one of the many slogans that keep up going.) And thinking of the people who we do this for always gets us motivated to go further.
Team Hope For Hooters walks again. Bright & early down the street to the shuttle bus, and on time for a 7:00am walk departure from the Wellness Village at Corte Madera.
Today's walk is a couple miles over the half-marathon distance, to make up for yesterday's "shortfall". We're heading back along Hwy 101 to Mill Valley and through Richardson Bay to Sausalito, with Mount Tamalpais in our backs. Up the hill and over the top … no not Mt. Tam, but into Fort Baker again, where lunch (and the medics tent) await. Fully recovered (well …) we're all ready to cross the bridge again. The Golden Gate that is, and we on our way back into the city. Goal in sight we head down the hill to Crissy Field, along the Marina and – yes – there it is – the Finish Line at Fort Mason!
Our own personal welcome teams are as much appreciated as the many well-wishers, volunteers and crew who welcome us back to the Closing Ceremony. It was a walk worth going, and a cause worth supporting.
Thank you Alisa for being our team captain again this year, and Thank you Kristina, Teri and Clae for being such great walk buddies! I could not have done it without you!
And a huge Thank you to all my donors, as I could not even have gone there without your support! In it to end it. One step at a time. And there were 75,000 of them this weekend, with my 2 feet alone. (Ok, it was 74,788 to be exact, but who's counting?)
Enjoy some more photos from Day 2 …