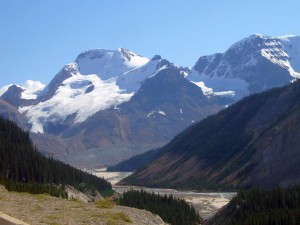 You might think we've had enough scenery for a while, but no! Now that we're in the National Park, we're officially on scenic routes! After breakfast and a grocery & souvenir shopping stop in Jasper, we are heading south now, along Hwy 93 towards Banff.
There are several must-stop places outlined on our map, but the sights in between are not to be missed either! The viewpoint for Mt. Edith Cavell and Mt. Hardisty, the impressive Athabasca Falls, and then the Columbia Isefiels, where we stop for a hike up to the glacier. Without a tour, you can't actually get onto the ice, since there is a fast, icy cold river running betwqeen the end of the trail and the beginnoing of the ice … but it's impressiver nevertheless. Sad fact to add … there is a huge distance between today's end of the ice tongue and where it was 16 years ago when Sabine & I had been here. 🙁 The signs posted state that in about 100 years, the glacier will be gone. Scary.
After crossing into Banff National Park and a lunch stop, we're back on the road heading south towards Saskatchewan Crossing, where we get the most expensive gas of this trip … $6.08 per gallon! Yikes.
Lake Louise follows a while later, and given it's already late afternoon, we're only stopping for a quick walk to the lake. And then we're tackling our last portion of today's trip, 60 km to Banff. And just before 7pm we arrive at our campground, Tunnel Mountain Trailer Court, a full hook up site and clean showers! Woohoo! Time to clean up!