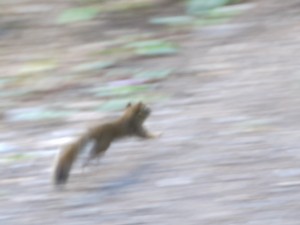 Ahhhhhnother great night of sleep as it is super quiet outside at the Tunnel Mountain Trailer Court Campground (site #811) here in Banff!
After 3 days out in the boonies, it was about time to catch up on our photos and posts … and this morning that's exactly what we did. Type up the blog, pick out and caption the photos and then off to find an internet cafe to get wifi access and upload it all! By early afternoon, we were done!
Then it's time to enjoy nature here in this National Park. We leave downtown and head up the hill towards the gondola, next to the Hot Springs. Tickets to go up Sulphur Mountain are pretty pricey, and there is no discount for hiking back down. But if you hike up to the summit of Sulphur Mountain, the ride down is free! So there we are … backpack and shoes ready for a hike and off we go!
Soon we realize we're not in the best shape to start a hike at 1,583 m (5,194 ft), that travels over 5.7 km (3.5 mi) and covers 698 m (2,292 ft) in elevation gain! But we made it … in just about 2 hours, a normal to fast pace (per the signs posted)!
We regret our choice to hike up several (many) times during the walk, but once we see the first glimpse of the summit upper terminal of the gondola and then reach it completely, we're very happy we did it!
By now, we're starving (no lunch other than a Cliff bar and an apple halfway thru the hike at a waterfall), so we're soon heading back down – this time on board the gondola!
Dinner is happening downtown today, we're craving some pasta, and find just that at "The Meatball", a pizza & pasta restaurant just a couple of blocks from the town center. The food is delicious and plenty, and service is great! What a way to finish!
But then we're ready to call it a day, and we head back to the trailer. More exploring & driving awaits tomorrow …