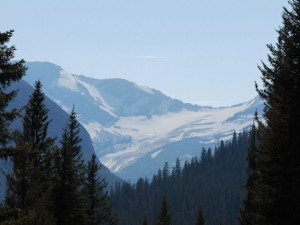 Good news: our trailer is only 15 ft long. Bad news: adding the truck (sort of necessary to move around) gets us well beyond the 21 ft vehicle length restriction that is in effect for the Going-To-The-Sun Road through Glacier National Park.And you really don't want to go beyond the limit (21 ft bumper to bumper; and max 8 ft wide including mirrors).
As we leave St. Mary in the late morning and head into the park, we are able to go as far as Sun Point, where we then park the trailer for the next few hours while we head on further into the park and up the mountains with only the truck. Soon we find the road narrowing, steep cliffs on one side, drop offs to the lake or valleys on the other. Beautiful views of the mountains that make up Glacier National Park!
As we reach Logan Pass, the highest point in the park (that one can drive to), we also hit traffic. Yep – not because of the many tourists (although there are plenty), but because one road construction and the resulting one-lane traffic stops. We decide to drive a bit further to see the Weeping Walls before turning around … and definitely get a long time to enjoy the views, as we are stuck in traffic down & back up the other side for 2 hours. Yikes. But worth it.
On the way back towards the east side of the park (remember – we left our trailer there), we stop for great glacier views and a short hike to a waterfall. Then it's time to pick up the trailer again and head out of the park. Now we're off to driving around the park … since we couldn't go through all the way, and our destination for today is West Glacier. A couple hours drive through hills, always with the mountains on our right. And at around 6pm, we reach the West Glacier KOA, where we check in for the night. Then it's time for dinner – at the Rawhide Steakhouse & Restaurant in town.
And because it's a nice (not-too-chilly) night, we finally get our campfire going! Yahoo!