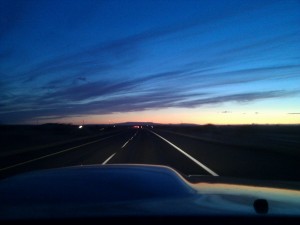 Yes, the last 2 days were all about driving. And gas stations. And MPGs (around 11.5-12.0 actually). It was time to get some distance between us and Canada (as we're approaching the end of our trip), and with that, we had a lot of distance to cover.
Thursday morning, after packing up at our West Glacier, MT campsite we headed west, along Hwy 2 thru Montana and into Idaho, then turned south onto Hwy 93 until we reached the freeway, I-90 west. That one soon took us into Washington, and an hour later we turned off again to join Hwy 395 south, which would become our longest "highway relationship" on this trip!
Driving through the sunset and into the night, we made it to Pendledon, OR, our intended stop for the night. However – KOA: full. All other RV parks: full. WalMart parking lot: full (with RVs). Guess what … the rodeo's in town! So we decided to follow Hwy 395 a bit further, another hour through the hills & the dark, until we reached Ukiah-Dale State Park, with it's small but pretty campground (we didnt't actually see much of it until the next morning)!
Friday morning was quickly packed up and we were on the road again just after 8:30am. Still Oregon, still Hwy 395 and still heading south for many more miles to be covered. It wouldn't be until 3:30pm that we leave Oregon and enter California (yep, still on Hwy 395).
Shortly thereafter, we finally left Hwy 395 and headed west, onto Hwy 299 wich took us through Lassen Co. and into Shasta Co., where we turned one more time, onto Hwy 89 south, to Hat Creek, CA, just between Burney Falls State Park and Lassen National Park. A perfect spot for ourlast night stay, and great starting point for the last 2 places on our agenda to visit!
Full hook ups, showers, campfire, dinner … all set!