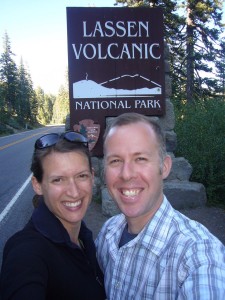 Our last day of the trip has officially come, as we pack up the campsite, truck & trailer one last time before heading to Burney Falls Bakery & Deli for breakfast to get ready for the sights yet to come!
McArthur Burney Falls State Park is located just a few miles north of Hat Creek where we had stayed the last night, and is definitely worth going! We park near the entrance and falls overlook, snap some photos and then head on to the 1.2 mile falls loop trail, which presents the falls and their surrounding from various angles as we hike through the woods.
Then it's time to head south (pretty much the only direction we'll be going today) for about 41 miles, to one of the least visited National Parks in the contiguous 48 states: Lassen Volcanic National Park. The reason is not what's to see (which is plenty & beautiful), but it's remoteness off the beaten path in Northern California.
After a stop at the visitor center, we drive along Manzania Lake and to Devastation Area, still called that way from the blow it's vegetation received after the eruptions of Mt. Lassen in 1914. Devastated from the snow, rock & lava avalanche following the blow up, there was nothing left standing. Today, almost 100 years later, things do look different, but the name remains.
We drive along Lassen peak lake, over the summit and stop at Helen Lake, near Bumpass Hell for a quick bite to eat. It's a bit chilly (58 degrees F) at over 8,500 ft elevation, so we descend a bit towards Sulphur Works, where the smell really works your senses! Beautiful colors, bubbling mud pots and fumaroles however more than make up for the stink.
And then we leave Lassen National Park, head west on Hwy 32 to Chico (now it's 85 degrees F and we're at 195 ft elevation), and straight south on Hwy 99, stop for dinner in Yuba City before reaching I-5 and heading back home.