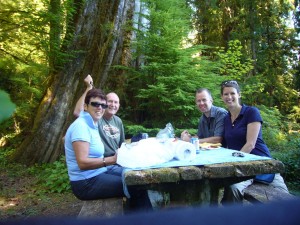 Sleeping in with the sounds of the Pacific Ocean being the only noise out there is a nice thing! And although that makes for a late start, we're off before too late, heading up north on Hwy 101 towards Olympic National Park.
Not a lot of towns along the way (no cities for sure), but quite some interesting sights (if you can call them that … almost-abandoned towns, picturesque drives, trailer towns, green lush land along the ocean, …
After several hours on the road, we get to Olympic National Forest, home to Quinault Lake. Here is where we not only stop for gas (at one of only 2 gas stations in the greater area … and the other one is out of order we're being told), but also find a great spot for lunch: July Creek picnic area, along the water, but in the woods!
Soon after we continue on, we enter the Olympic National Park, and stop at The Big Cedar Tree (which is 1,000 years old) and at Ruby Beach, 2 stops along Hwy 101 that are not to be missed. Then we continue on into one of the valleys that lead into the Olympic Mountains: to Hoh Rain Forest. Although it is too late for any hikes by now, we've got plenty of time to set up our sites, get eaten by mosquitoes and have dinner & a nice camp fire going!