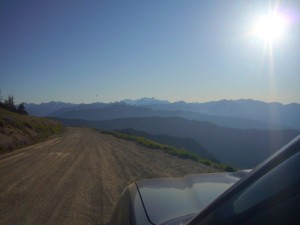 8:44am appeared in the clock in our trailer as Andrea opened one eye as she awoke this morning.  "Oh my god!" she said jumping out of bed.  It was much needed rest as we're adjusting to being on vacation.
As we opened up the door of our little trailer, Hoh Rainforest was quiet, the morning sun shining through the thick trees, and the temperature was perfect.
After breakfast with Rainer & Heidi, we packed everything up and took off on foot to hit one of the beautiful loops just near our campsites.  No one ever thinks of a rainforest in the US, but it was obvious we were in one with the lush vegetation and thick moss hanging like Santa's beard from most of the trees.  It sort of reminded me of Kuranda Rainforest near Cairns, Australia.  Instead of hot weather and palm trees, it was cool and pine trees.  I was excited to hear Hoh was home to flying squirrels, only to be disappointed to learn that they were nocturnal.  Guess we weren't going to see one of those little guys.
After leaving Hoh, we drove a couple hours north around the park and arrived just after 4pm at the KOA in Port Angeles (Not really recommended) to get setup for the night. We unhooked the trailer and all four of us packed in my truck for our drive up to Hurricane Ridge.  It's a 19 mile drive up the mountain to a beautiful view of the Olympic Mountains.  We took some photos, walked past some deer in the parking lot, bought a shot glass as we packed back in the truck to head back down the mountain.
"What did that sign say?" I asked passing a dirt road.  "Buses, RVs, trailers not recommended" Andrea said.  I flipped a u-turn as Rainer grew a big grim.  Heidi and Andrea's eyes, on the other hand, grew rather large.  Once I hit the dirt, I flipped the switch to 4 wheel drive.  8 miles down the the road featured bumps, dirt, cliffs on each side, and it was the highlight of everyone's day.
We headed back down the dirt, and then down the hill to Port Angeles.  A quick stop and Walmart to pick up some goodies, and finally back to the KOA to have out last night with the Bogenspergers and they are checking in their Cruise America RV and heading back to Vienna soon.
Tomorrow:  Saying goodbye to family, and hello to Canada!