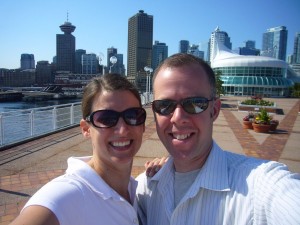 2 nights and 1 day is what we've got for Vancouver, but having had everything set up yesterday already left today for a full day of city sightseeing!
After a slow start into the day we're heading to the bus stop, just a few minutes walking distance away from the campground and jump right on board. Over the Lions Gate Bridge and thru Stanley Park, we're being taken right downtown.
A couple of blocks from Canada place we get off, to walk from here on. The site of the 1986 World Expo and now Convention Center of the city is our first stop – yes, Canada Place, which looks like a cruise ship itself with its 5 sails pointing towards the water. No cruise ship is docked here today, but that will soon change I'm sure. We're strolling along, enjoying the beautiful weather & views.
Then it's time to get a real overview, from The Lookout observation deck, just a few steps away. What a great way to get yourself aligned with what's where here! After making a couple of rounds, taking in the notes and snapping pics, we're heading down again, and into Gastown, pretty, touristy and busy. The steam clock is a must, and without stopping at any of the souvenir shops (we will be back), we're heading towards Chinatown. The 2nd largest Chinese population outside of China after San Francisco Chinatown, this place has food (?) for sale at more than just every corner. But nothing is sticking out as a potential lunch snack for us.
So it is back to Gastown, where we are enjoying our paninis at the Smart Mouth Cafe. Then we're on to some souvenir shopping and more walking. Waaay across town is Yaletown, with plenty of new high rise condo/apartment towers, shopping & dining options … as well as our meeting up with the Seawall, a walkway that wraps around the entire city. Although we're only on it for a very small stretch, it's very enjoyable. Behind us a park, in front the water, watching the waves and water taxis zip by. A nice spot for a break.
By 5pm we're ready to head back to the campground, for more relaxing & dinner. A "stroll" along Seymour St (only about 7-8 blocks) takes us back to Georgia St, where we board our bus back to West Vancouver, were we return to our site. What a beautiful day!
Now I just need a drink in one hand, a book in the other and looking over to see Kirk stand at the grill, making dinner  … perfect! 😀