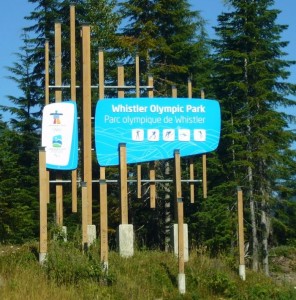 Over the kilometers of today's drive, we've certainly lost track of elevation gains, drops, gains, drops, gains … you get the picture!
Following the "Sea to Sky" highway # 99 is one of the most (ever changing) scenic drives there is, and you literally start at sea level in Vancouver, drive along Horseshoe Bay and make your way up into the mountains through well known towns like Whistler, where we stopped to visit the Olympic Park (2010 Winter Olympics – Ski Jumping and Cross Country took place right here; Alpine skiing on the other side of town).
Then we cruise along further and hit a major road construction just after Pemberton. A 30 min wait in the baking heat (yep, they have a heat wave after 6 weeks of rain here) holds us back a bit. But what follows was certainly worth the wait: the most beautiful, impressive and spectacular scenery as we cruise thru mountains, valleys, past drop offs and thru lush green forests … the route to Lillooet is the best!
We continue on past Lillooet, and find again a vastly different scenery from here on. Much more open, a wider river valley, more yellows & browns – until we get to Pyramid Lake and Marble Canyon Provincial Park, where we stop for the night. This little campground (no hookups, pit toilets only) is located directly along the water, and site #25 is one of the best ones: lake front seating! It's getting dark quickly, but the almost-full moon is sparkling in the lake … very pretty!