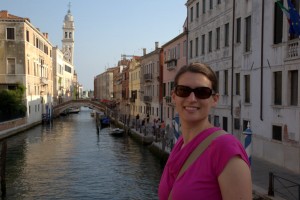 After stepping out again last night from some moonlight shots of the Colosseo, we are all packed up again and sad to leave Rome – and Sabrina's beautiful home – behind, but are excited to make our way to Venice! This one will be a first for all three of us, and the high speed train gets us there in just under 4 hours.
Right outside the train station is the Ferrovia boat line stop, and the boats are coming and going from/to all directions! Nicolo, our Airbnb host here in Venice instructed us to take the #5.1 line, and while we wait we giddily watch the boats on the Canale Grande, the churches, palaces and houses on either side and people crossing over bridges… what a sight to see! I am not the least bit disappointed! After about a 27 min ride, we arrive at the San Zaccharina stop, close to S. Marco Square, from where we will have to walk to the apartment. It's not far, but getting lost is easy and we do end up taking a couple of small detours before we get to our destination. Nicolo tells us to ring next door, where his mama lives. What a nice lady! She and her husband show us the apartment, hand us the key and we are settled!
After a little relaxing, we are ready to head back out, stroll around the neighborhood before locating our desired restaurant for dinner. Mama suggested the Trattoria Giardinetto, and we are delighted with not just the food but also the service. This place must be recommended! Since no day in Italy is complete without Gelato we find a small gelateria after dinner, get the daily fix and head off for some more evening photo ops. There are plenty of gondola boats out on the canals, but after seeing the price tag (EUR 100 after 7pm; discounted to EUR 80 during the day; for ½ hour predefined tour) we prefer to walk for sure!
We're ready to call it a day and head home. We'll need our foot strength again tomorrow!