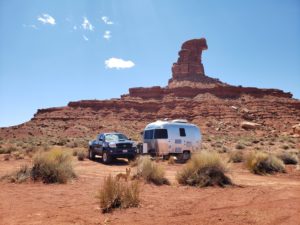 Day 4 (Tuesday, May 04, 2021)
Aside from setting up our camping chairs around the self-made fire ring and getting the solar panels out and in place, we do nothing today. That's right, nothing. Just relax!
Day 5 (Wednesday, May 05, 2021)
After all the excitement yesterday, it's time for another day of the same. Relaxing at the site, hiking up the hill to take photos of how remote our site is (it is really remote), enjoying the sun (it's a bit breezy, so watch for sunburn!) and doing a whole lot of napping, I mean nothing! (and napping)
Day 6 (Thursday, May 06, 2021)
Since there are things I wanted to do while we're camping out here, it's time to do them! For our first day of sightseeing in the area, we take it slow – and check out the namesake area for the closest town: Mexican Hat Rock.
Similar rock formations are called balanced rock or similar, but this one is supposedly a Mexican hat. Or as a nearby graffiti states: it's a sombrero! 🙂
Not only will the off-road trails get us really close to the rock, but also to some great overlook points above the San Juan River. From here we spot several more boondocking camp sites, which we later check out – right along the river.
On our way back to Valley of the Gods, we take the long way – entering from the West Entrance at Utah State Route 261, past our site from last fall, checking out a couple crisscrossing off-road dirt trails, heading east toward the buttes and pinnacles, before heading south following the course of Lime Creek, a seasonal wash, and crossing flat, open land – all the way to our site this year, just below the Rooster
Butte.
Day 7 (Friday, May 07, 2021)
Ok, time to check out the Goosenecks State Park along the San Juan River, just north of Mexican hat UT. It's amazing to see how the river snakes (or goosenecks) through the rock, carving its deep tracks in the rocks we stand on. And while last year's Horseshoe Bend near Page, AZ last year was spectacular – it was only 1 bend whereas this park has multiple bends to offer, one after the other!
After being nearly blown away from the high winds in the area, we head north a few miles to make the trek up the Moki Dugway, the 1,200-foot (370 m) ascent up Cedar Mesa. A steep gravel road with switchbacks galore, this is our first time without towing a trailer! In 2012, we pulled the Fun Finder down the hill; in 2020 we pulled the Airstream up; now I get to drive while Kirk is in charge of videoing it! A spectacular over the Valley of the Gods below is the perfect setting for our picnic lunch off Muley Point road.
After several rounds of drone footage off the cliffs we head back down the dugway and make our way through the Valley of the Gods one more time, back to our site.
Day 8 (Saturday, May 08, 2021)
After 5 nights of boondocking in the Valley, it is time to pack up, dust off (feels like have the valley's red sand is inside our trailer and stuck on all of our gear!) and get going. On our way out, we pass an incoming truck & trailer set up – with Bambi1No from Colorado, a couple about our age, truck similar to ours and Bambi Airstream just like ours! We stop and chat for a moment, giving them the insights to where our awesome site is tucked away.
Once back on Hwy 163, only about 15 miles further east is the town of Bluff, UT, where we stop at the Coral Sands RV Park for tonight – hookups and all, to get the trailer refreshed before the next part of our adventure awaits!