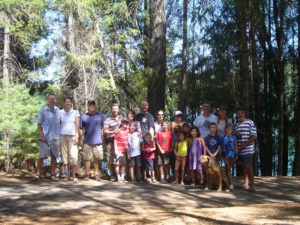 Day 4 – 08/16/2012
After packing up the trailer at Lake Spaulding this morning (see "Backpacking Tahoe National Forest") we're heading back to civilization – taking I-80 west to Colfax, where we stock up with groceries for the weekend, before heading around the reservoir, to the Peninsula campground for our annual Rollins Lake camping weekend!
2,000 ft lower in elevation than our last site, we certainly feel the difference in heat … it's a hot 97 degrees in the shade and feels even hotter!
While the Hydricks are already set up at site 49, the Yelawichs arrive (also at 49) while we are just setting up (at site 52). Kristina, Clae & Kody are coming in a few hours later that afternoon, claiming site 50 for the Cougar. The first part of the group is complete and everyone is ready to enjoy the quiet, the water and later the campfire.
Day 5 – 08/17/2012
Today. most of the remaining campers arrive, with the Cobles (Wes, ALisa, Westin, Miles and Giovanna and their 2 dogs Shome and Zoey) plus their friend Frank from NY earlier and the Rosellinis (Jeff, Marie, Mia, Mark and a cousin Audrey from WA) later.
Sun, fun, beach, water, rope swing, campfire, marshmallows, smores, and more … what else could you ask for! Oh, right: food. Well, as always, there was plenty of that!
Day 6 – 08/18/2012
The Alexanders (Abe, Laura, Nick and Ben plus the 2 guinea pigs Chocolate & Vanilla) have joined the crowd just in time for breakfast, after having spent the night "in the wild" due to late arrival.
It is Saturday, and as expected we start the day with food, continue eating throughout, and wrap up with some more. In between, there is more time in & on the water (Wes brought a boat), relaxing (if you can tune out the kids screaming) and fun in the sun.
While the Hydricks and Yelawichs are leaving today already, Clae's friend Don joins the group this morning, refreshing his childhood camping skills.
No accidents, nobody getting hurt. I think the spell from the last few years is broken! 🙂
Day 7 – 08/19/2012
The weekend goes by way to fast, and after another big breakfast, we're starting to pack up the trailer & site, as most others of our group are doing.
Almost a tradition by now, we get a group photo in before everybody heads on their own ways again. Great memories as usual, and we'll be back in 2013!
Here are the photos!