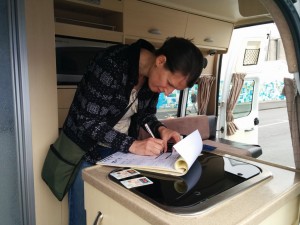 Day 3 starts with getting ready and packed up again for a 10am hotel check out. Just as we exited the elevator, we bumped into Eddy from Discover NZ, our campervan guy. We walked outside and saw our home for the next two weeks. What a cute little thing it is! (And as the owner of a 15-ft camping trailer, I can say that!).
We take off (Eddy driving) for a parking lot near the hotel where it's a bit less busy, and go over the ins & outs of the van, sign the paperwork, and before before we knew it, we are on the road.
Heading north, we have an ambitious goal for today: get loaded up with supplies and head north past Kirikiri to Aroha Island near the Bay of Islands Maritime and Historic Park.
About 2.5 hours north of Auckland is Whangarei, where we stop for lunch and get groceries and anything else we need.
Then we're on the road again, heading further north on Hwy 1 to Hwy 10, where we reach the Aroha Island Kiwi Preserve, just in time before to meet up with the ranger to get the scoop on what noises Kiwis make and how to spot them … if you are lucky enough!
We set up camp for our first night, then check out the trails before it gets dark. Kiwis don't come out until after dusk, but we need to know where we'll be heading later when the only light will be the red glow of our cellophane-covered flashlights.
After dinner, we are off to our first mission of the trip: see a kiwi in the wild! We proceed cautiously and quietly, listening for their sounds or the scratching on the ground, but nothing. It's dead quiet on the island. Almost 3/4 back to camp, we hear a couple of crackles in the woods and stop one more time. And sure enough – Kirk spots a Kiwi! It's big! It's brownish-grey. And it's fast! Before we fully grasp it, it's already on the move and out of sight in an instant as Kirk tried to take a photos (see the red photo below). "Stupid elusive kiwi!" Kirk said as he checked the photo on the camera.
Happy that we saw a kiwi, but bummed about the missed photo, we return back to camp with a very successful day 1 behind us!