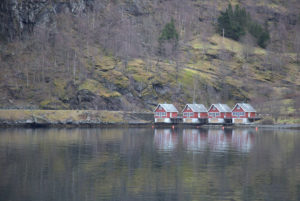 Jet lag can be rough, and when you spend hours awake in the middle of the night, the alarm in the morning is not a welcomed sound! But the day awaits with part 1 of our "Norway in a Nutshell" tour as we get up, grab breakfast and leave the hotel for the central train station.
The Bergen Railway is not having a good start either. Due to service disruption (aka technical issues) our train arrives an hour late to get the trip started towards Bergen. From Oslo we go through Hønefoss, Flåm, Gol and Geilo, reaching almost 1,000m in elevation and through a beautiful ski resort with great snow coverage and iced-over lakes. After approximately four and a half hours we arrive in Myrdal where we disembark and walk across the platform to the already waiting Flåm Railway.
An online blog alerted up of 2 things: (1) Get a seat at the front or back of any car to get windows that open – for better photos! and (2) the right side has slightly better views than the left. Being here in the winter has one huge advantage – it's not crowded. We can choose whichever seats we want and still switch back and forth between the sides to get shots on either side. A traveler from Seattle who we share windows with tells us that he had been here last summer. He said the train was packed like sardines and he didn't get any photos!
Typically the train would stop at Kjosfossen (Kjos Waterfall) for passengers to take pictures or even get off the train for better shots from the platform. Since our train from Oslo had been delayed almost 90 minutes we need to make up time to get travelers to their boat in Flåm on time. So it's just a quick snapshot from the window for us. The Flåm Railway covers over 860 elevation change over the course of its 40+ minute ride down towards the fjord, from 866m in Myrdal to 2m in Flåm. Total trip length is 20km, with the max gradient at 55‰ or 1:18, minimum curve radius at 130m and max. speed downhill 30km/h.
Once we arrive in Flåm we let the tourists pass us on the way out of the station. With the late train, they have a boat to catch "now" while ours is still a day out. We leisurely walk to the Flåmsbrygga Hotel for check into our room for the night. It is nice out and still light so we head right back out to walk through town, check out the railway museum and explore other sights in town. At 4:30pm, we head into the Ægir Brew Pub where Kirk gets a presentation of how beer is brewed here locally followed by beer tasting. There we meet Jen, Rob, his daughter Ally and their friend Rosemary (from New York) and later join them for dinner in the same restaurant, too.
After a tasty dinner and great conversation we make our way back to the room. Kirk planned on some night photos, but it has started raining. Tomrrow we hope for clearer skies in the morning when we get to explore more of Flåm.