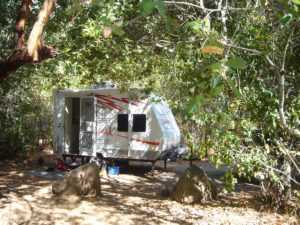 With no plans for the upcoming weekend, it takes only a quick moment to decide what we want to do: go camping! Again! So after picking up the trailer Friday night, calling ahead to get a site, we are on the road late Saturday morning, heading north -towards Calistoga in the Napa Valley.
Bothe Napa Valley State Park has a small, no hook-up campground, with pretty (small) sites and great trees & shrubs for privacy. Only a mad person would attempt to sneak through the bushes here … there's Poison Oak everywhere!!!
So we decide to stay on the trail as John (Kirk's dad) and the 2 of us go out for a little hike in the park. Following the Redwoods trail, we see all kinds of trees – and more Poison Oak – but only a few Redwoods. Not too long after, it's time to start dinner (camp had been set up pre-hike), under an ever-so starry sky. All is well when I wake up in the middle of the night, listen to the soothing sounds of the lightly falling rain outside. Rain!?My shoes are sitting outside, both pairs! Yikes. Never have I been up quicker at 4am than at this sudden realization. Within moments, the shoes are inside, the camping chairs and table folded up and stored under the trailer, and everything else checked out to be in dry spots. And then it's time to go back to bed. After all, it is in the middle of the night!
With no big plans for Sunday, we take our time getting up, enjoy breakfast and pack up, before heading back -after a short but fun trip into nature!
As usual, the camera came along with us and some nice pics are the result. See for your self in the gallery below!