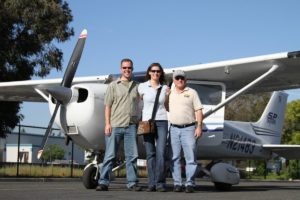 (Note: View the English version.)
Über den Wolken muss die Freiheit wohl grenzenlos sein … Um das beurteilen zu können, hätte es Donnerstag Abend allerdings bewölkt sein müssen. Und das war ganz und gar nicht der Fall!
Mit nur ein paar Stunden "Vorwarnung" hiess fuer Kirk und mich in die Luft zu gehen – im wahrsten Sinne des Wortes. Jim the Pilot hatte uns eingeladen, ihn auf einem Flug nach Jackson in die Sierra Foothills zu begleiten. Gefolgt von Abendessen und Rückflug. Nur zum Spaß! Und da waren wir natürlich dabei.
Kurz nach 5 abends ging es dann zum lokalen Flugplatz in Livermore, wo Jim schon eine kleine Cessna gebucht hatte und nach auftanken und Startfreigabe durch den Tower ging es ca 1 Stunde spaeter los. Aufstieg auf 5.500 ft, und Turbulenz-freier Flug über die Far East Bay, das Central Valley und Stockton Richtung Berge.
Mayday! Mayday! Als wir ca. 40 min später über Jackson Westover Amador Airport sind (es gibt dort keinen Tower, man meldet sich via Radio einfach an – falls sonst jemand gerade in der Gegend ist), hören wir von einem anderen Piloten, der um Hilfe bittet! Emergency! Nach kurzem Suchen am Horizon haben wir den anderen Flieger auch schon entdeckt – der ein Problem mit dem Fahrwerk hat: seine Anzeigen sagen, es sei nicht ausgefahren! Also lassen wir ihn umdrehen, an uns heranfliegen, er zieht auf (fast) gleicher Höhe an uns vorbei, und wir bestätigen, dass alle 3 Räder draussen sind! Was für ein Abenteuer!
Kurz nachdem wir gelandet sind, hören wir auch schon den anderen Flieger landen und können mit eigenen Augen sehen, dass das Fahrwerk gehalten hat! Ende gut, alles gut!
Nach dieser Aufregung ist es Zeit zum Essen – und mittels Taxi geht es in wenigen Minuten nach Sutter Creek, zur "Twisted Fork". Egal ob Basil Chicken, Chicken Parmigiano oder Pot Roast, alles war sehr gut! und gut gefüllt geht es dann wieder zum Flughafen zurueck.
Mittlerweile ist es draussen dunkel und wir erleben einen Nachtflug auf der Cessna. Inklusive Warnmeldung beim Erreichen des San Francisco Airspace (wir sehen die grossen Jets leuchten), waehrend wir wieder in Livermore landen. Um kurz vor 10 ist die Cessna dann wieder im Hangar verstaut, und wir auf dem Heimweg!
Danke Jim!
PS. Die Fotos von unserem Aus-Flug sind im nächsten Post zu finden!