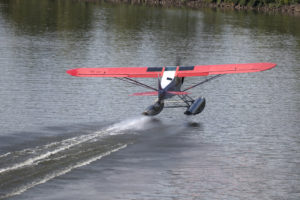 Discovering Fairbanks starts with a short walk to downtown, where we stop at the Morris Thompson Cultural & Visitors Center, with its exhibits on the people, land and culture of Interior Alaska. And the moose antler arch – a must see.
From there we walk along the Chena River, through parts of downtown Fairbanks towards the Pioneer Park, which has celebrated Fairbanks' Past by showcasing the history in museums and historic cabins (moved here from their original locations) since 1967 as the Alaska 67 Centennial Exposition, which was held for the 100-year anniversary of the purchase of Alaska from Russia.
The beautiful weather makes for a perfect day to explore!
Riverboat Discovery has great reviews online for its 3-hour tour on the Chena River, and it's our next stop today. Going downriver, we are being taken into the heart of Alaska by a family who has made the rivers of this state their way of life for five generations. We see a seaplane take off and land on the river right next to the boat, and hear the story of a bush pilot. Then get introduced to the Susan Butcher Kennels, home of the late four-time Iditarod champion, to learn about kennel life and what it takes to making a champion dogsled team. Just to be immersed into frontier living with a tour of an Athabascan Indian village.
After returning to Steamboat Landing, it's time for dinner. Multiple people have recommended The Pump House for dinner, and off we go. We will not be disappointed by quality of food and service, a great end to a perfect day in Fairbanks.