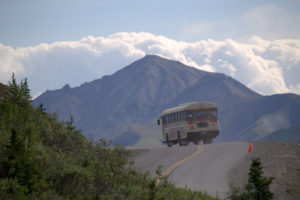 It's already time to bid farewell to Fairbanks, as we pick up our rental car and head out of town this morning.
Just 15 minutes north of Fairbanks we stop along Hwy 2 North, at the Alyeska Pipeline Visitor Center, a display and above-ground part of the Trans-Alaska pipeline open to the public. 800-miles long and built almost 50 years ago, this is quite a sight to see and worth the quick detour.
Soon enough however we are heading south again, skirting past Fairbanks and are on our way south/west on Hwy 3 towards Denali National Park.
About halfway there is the tiny town of Nenana, known for its Annual Ice Classic. Here, locals (and tourists alike) get to bet on when the ice on the Tanana River will break. This has been tradition since 1917 – but unfortunately we are too late to bid on the 2019 date! The town was also put on the map as the spot where the last nail was hammered into the tracks of the Trans-Alaska Railroad, connecting the two sides from east and west.
We're driving on for another hour until we reach the town of Healy, to stop for a late lunch at the 49th State Brewery, enjoying a delicious lunch. Right outside the restaurant is a replica of the Fairbanks city bus which was where some guy froze and starved to death, and had a movie made around his story – called Into The Wild.
Before checking into our hotel here in town, we are continuing on for another 10 minutes until we reach the entrance to Denali National Park. We stop at the Visitor Center to confirm the details on our transfer bus tour into the park tomorrow, where we'll be going all the way to Kantishna and back, a 12-hour round-trip in hopes to see Denali and wildlife. We drive as far as cars are allowed – to the Savage River Station, about 15 miles in. It's beautiful here and the drive promises of more to come for tomorrow.