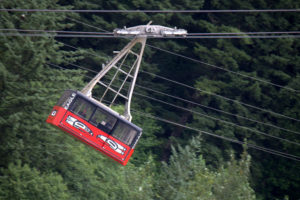 After leaving Haines just before 9pm last night, our ship has reached Juneau just before 8am this morning. Forecast calls for another day of rain, so the gear remains at hand. The extremely high water levels (flood stage) and strong winds have resulted in the cancellation of our Mendenhall Glacier Kayak Tour for today – bummer. We opt to make up our own walking tour of Juneau instead, as we have until 5pm before we need to be back aboard.
First off to the Mt. Roberts Tram, to get a great view over Juneau and its surroundings while it's still clear (aka no fog). The Raptor Center showcases Mrs. Baltimore, a bald eagle with a damaged wing and eye, who cannot be released back into the wild. 90% of injured eagles however can be released from here after being taken in. A short loop trail provides additional view points in various directions, and one even offers a glimpse of Mendenhall Glacier, where we were supposed to go to today.
After a video on Tlingit culture in Juneau, we take the tram back down to town and explore downtown including all the very touristy parts and stop by the State Capitol. By now it is pouring rain again and soon we put an end to our shore excursion. Heading back aboard we get to watch a few late comers running towards the ship at 5:30pm, before a relaxing evening including a whale (back) sighting on our way towards the next port.