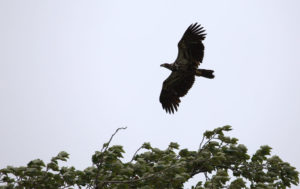 Official arrival time for our ship here in Haines is 6:30am, but when I look out the window at 6am, we're already tied up to the dock. It's chilly, blustery and a little rainy again this morning, but we're still looking forward to our Chilkat Bald Eagle Preserve Raft Float today. Time to get the day started!
First off to exploring the town of Haines (population 2,000) with its former military fort (Ft. Seward) and downtown sights, including historic buildings, a hammer museum (1,600 hammers from around the world!) and the American Bald Eagle Foundation.
By early afternoon we meet up with our guide from Rainbow Glacier Adventures, who takes us to their headquarter office (a shack) up the hill to get "booted up". Rain-gear already on, we now add rain-boots to our outfit, to stay as dry as possible in the continued rain and wind. A short ride up the river on the Haines Highway (the only road in and out, and really not leading to anywhere near), we reach our drop off point. While our driver Byrne will stay with the bus, river guides Ashley and Steve will float our boats down the Chilkat River.
The 4 of us sit with 3 others in Steve's boat. A many with many years of experience on this river keeps us afloat for the hour and a half that we spend on the overly full river. Rather than easing up (as weather forecast predicted), winds and rain actually got stronger by the time we're on the water. Despite the poor weather (or "perfect South-Alaskan weather" as they call it here), we get to see several bald eagles – sitting in the trees, flying overhead or taking off right in front of us.
We all make it back (mostly) dry, but still looking forward to warming up again when back on the ship!
Tonight's dinner is at the specialty restaurant Pinnacle Grill, where the menu is a little fancier than in the main dining room. Steaks and Lobster galore! After this much fresh air and food, there is barely room left for a last drink at the Piano Bar before we call it a day.