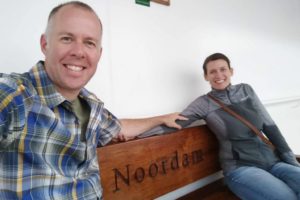 Soon after leaving Ketchikan we are crossing into Canada, and with that set our clocks an hour ahead overnight. The sea gets a little rough at times, but we have a beautiful sunrise anyways. Thereafter however clouds take over and the rest of the day is pretty gloomy.
We will be at sea all day today, but still keep our eyes open for any wildlife as we sail through the Inside Passage, hoping to spot a whale or two as we approach Johnston Narrows and Vancouver Island. And just after 2pm – there is one! Now we're looking for more.
This is our last day on the ship, and that means getting our bags packed up again, and everything ready for tomorrow morning's disembarkation. We can't believe our two weeks are coming to an end already – what a trip this has been.
When it's time for dinner, the Chef has a special surprise on the menu: Wiener Schnitzel! Of course we're all having that for our main course! Time to say farewell to our service crew, grabbing a couple of last drinks and shows and then it's time to put the packed bags outside the room! How come the suitcases seem to be so much heaver than when we first arrived in Alaska? Hmmm.