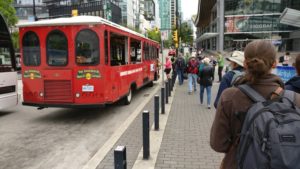 It's just after 6am when the MS Noordam passes under the Lions Bridge and officially arrives in Vancouver. Docking at Canada Place makes for a spectacular finish to our cruise and the disembarkation process is surprisingly efficient. I guess they know what they're doing!
By 10am we are off the ship, our luggage is on the way to the airport and we are boarding the Sightseeing trolley bus to take us around Vancouver for the next couple of hours. The Park Route of the Hop On/Off Tour takes us to Stanley Park, where we get off to walk around a little, check out the Totem Poles before re-boarding and finishing the route through the various parts of the city.
By 1pm it is time to head to the airport and get everyone checked in, and after another bite to eat we say Goodbye to Tina & Charly, who are leaving to FRA on their first leg home. Our flight to SFO is delayed this evening, leaving us here at YVR for a few more hours before the vacation really comes to an end and reality grabs us again.