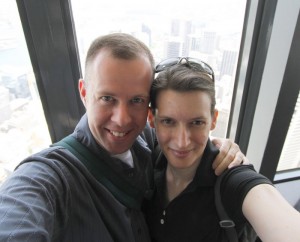 Food gets my brain going. That's why we're having breakfast while updating our posts. But sometimes, too much food just makes my brain stop. Like last night … That Kangaroo just jumped off my mixed grill plate and knocked me out! (I swear, that's what must have happened, because after dinner I was out in no time. Or maybe it was the combo of too much sightseeing, too much walking, too much sun and THEN too much food?)
Anyways … being the Tour Guide that I am, I took Kirk to the Sydney Tower first yesterday, to start the sightseeing with a fantastic overview of the city from approx. 200 m up above the streets. We then strolled over to Darling Harbour, enjoyed the views and the sun, toured back through the city center including the Queen Victoria Building [a shopping mall in a historic building … very nice; not to forget the Old Vienna Cafe (which we did not even stop at for a cup of coffee … probably because neither one of us drinks coffee)], and then headed off towards The Rocks.
On the way there was when we spotted Hulk Hogan (see previous post by Kirk for details). I will let him believe that it was a coincidence, but of course we all know that it was part of my extensive tour guide planning to walk past that hotel just at the right time …
Back to our tour now … The Rocks is the area of town which lets you get onto the Harbour Bridge, next sight. Climbing up the south pylon opens up an amazing view of the city!
Strolling back through The Rocks (the oldest part of the city), we decided it was time for drinks, and after some more walking, time for dinner. Wolfie's Grill on the harbour allowed us a great view of the Opera House (for me) and the Harbour Bridge (for Kirk) all the way through our meal.
Enough said for now … it's time to hit the road! Cheers mate!