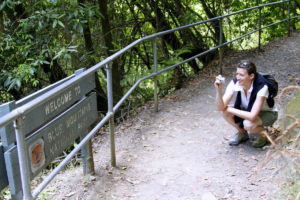 Day 3 and we are in the heart of the Blue Mountains, one of the main "attractions" of New South Wales. Just a stone throw outside of Sydney, this beautiful mountain/valley/canyon/ridge formation area is worth a trip!
After picking up our rental car this morning in Kings Cross, we headed out west, past Parramatta, right into the Blue Mountains National Park. After a stroll along the Wentworth Falls Lookout area, including a short hike to the Princess Rock Overlook, we drove further west to Katoomba, home of Echo Point, The Three Sisters and Scenic World.
Following the great suggestions from Visitor Center Guide Ben, we took in the view of the Three Sisters from Echo Point before descending down approx. 900 steps of the Giant Staircase. This leads to (almost) the valley, from where it then was only 2.5 km to the "Scenic World". But both the staircase and the valley floor hike opened up great photo ops and a great nature adventure.
Just before reaching Scenic World (the lower station for both the miner's railway and the Sceniscender, a small aerial tram), we enjoyed the Katomba Falls view. To avoid having to climb another 900 stairs up again, we decided to take the scenic railway (awesome decision), since the hike back to Echo Point is about 45 min.
We started our walking/hiking tour around 2:20 pm, and returned just after 6 pm … quite a walk! Ready to (almost) call it a day, we went to Katoomba Town Centre to get dinner and are now back at our room at the Lurline House, where we're staying the night.
Off to getting some sleep & rest (no foot massage in sight). Tomorrow will be another fun-filled day!
Andrea – out!