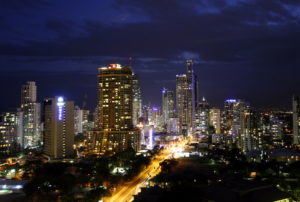 … is quite an undertaking!
Day 5 was all about driving. And it was only a small portion of our trip! But with ever-changing scenery: hills, mountains, plains, hills, mountains, … and cows, sheep, horses, cows, sheep … you get the picture! (Actually really beautiful, you've seen the Photo Gallery!)
And not to forget the "highlight" of the day: exploring our Celtic roots (just kidding) in Glen Innes's Standing Stones of Australia. I must say, Woodhenge in England was just as impressive (my family knows what I'm talking about).
However, making it to the Surfers Paradise Marriott Resort & Spa around 7:30 pm lifted our spirits back up! How nice to know you get an awesome, clean, comfy room for the same $$ as the motel the night before! Gotta love associate rate!
Speaking of time. After wondering last night why both the clock in the room and the one in the hotel elevator were wrong by  hour, curiosity took over this morning and I googled the time zone … just to find out that we are 1 hour ahead of Sydney time! "Why?", you may ask. Well, turns out that – although QLD and NSW are in the same time zone (EST), QLD is doing a Daylight Savings Time experiment (through this year) which changes time by 1 hour vs. NSW in the summer. And since it is summer down here, this applies! Guess what that means: we're only 18 hours into the future (to SFO) for the next 8 days! haha
Today is Day 6 of our adventure and after seeing only signs for Koalas, but no signs of them along our route yesterday, today's destination is the Koala Sanctuary just outside of Brisbane, about 90 km from here. Time to get ready and start the day …
We'll keep you posted!