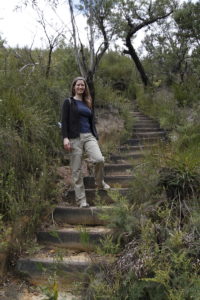 Yesterday, day 4, started with a hike to Wall Cave which is still up in the Blue Mountains area.  It was an hour hike roundtrip.  Lots of steps again.  Andrea counted 602 each way.  It was quite pretty and the light rain added a mystical element to the hike.  The closer we got to the bottom, the narrower the path got.  We were having to push our way through the wet green brush.  Just before we reached the caves, there was a path of stones right through the water. It was like something out of an Indiana Jones movie.  On our way back, our legs were burning and the rain started to come down harder.  It was a nice refreshing detour before we started on our drive.
At about noon, we were on the road.  Starting the drive through the hills.  Putty Road was where we spent the first half of our drive.  It goes through Wollemi and Yengo National Parks.  We were told to be careful at night and found out why during out drive in the afternoon.  Ben, the info guy Andrea mentioned earlier, warned that Kangaroos are quite stupid, and won't cross the roads at night until they see the other side.  When a car drives by, the headlights will light the road, and they'll dash across.  Unfortunately, the only kangaroos, wombats, and wallaby we saw were roadkill.  Yuck.
Our drive ended in the town of Tamworth.  A little country town with four round-a-bouts that has the largest golden guitar in the world and is the country music capitol (of Australia I assume).  Dinner was at a place called Outback Jacks where we sampled Kangaroo and Crocodile.  The croc was tough and a tad fishy, and the kangaroo was a tad chewy.  Not bad, not great. Something to try, but it's not something I'd order again.
We ended up staying at the Comfort Inn I mentioned in the last post.  I tell you what, Andrea and her Marriott connection has spoiled me throughly. We paid just under $100 AUD (the rate for $1 AUD is about .93 US cents.  This inn is a motel, something similar in quality to a Super 8 Motel in the US.  Tonight we're staying at a Marriott resort hotel in Surfers Paradise for the same price.  We can't wait.
It's time to hop in the shower and get on the road.   Today will be a long drive.  We're expecting about 7 hours.  Right now we're sore from the hiking, tonight we're going to be sore from sitting.