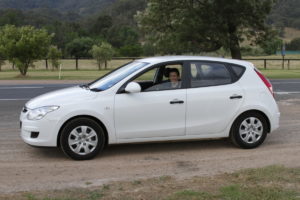 Read Kirk's post for the english version of Day 4 … here's an update in German for my folks! 🙂
Von einem Tourguide zum anderen kann es nur gute Tips geben! Und so kam es, dass die Empfehlungen von Ben, dem Tourist Info Menschen nicht nur tolle Aussichtspunkte und Wanderungen vorgeschlagen hatte, sondern auch eine schoene Route durch weitere Nationalparks Richtung Norden. Warum mir allerdings erst beim Verlassen der Blue Mountains ploetzlich das Lied "Von den Blauen Bergen kommen wir" durch den Kopf geht (und ich es bis jetzt nicht wieder los bin), wird ein Raetsel bleiben. Frage: wie geht der Text weiter? (ach so weit von hier, auf den Ruecken unserer Pferde … und die 7 Berge?!). Und sind das die gleichen Blauen Berge, wo wir gestern waren, oder gibt es sonstwo noch Blaue Berge?
Wie auch immer, heute (Tag 5) geht es weiter entlang der Ueberland Strecke, dem New England Highway, Richtung Norden. In ca. 200 oder 300 km (je nachdem welchen Abzweig wir waehlen) geht es dann Richtung Osten bis zur Pazifikkueste und dann noch ein Stueck noerdlich nach Surfers Paradise, and der Gold Coast. Hier werden wir dann New South Wales hinter uns gelassen haben und Queensland unsicher machen.
Jetzt ist es aber Zeit … Stoss' ma auf und brech ma z'amm! Es gibt viel zu tun … (lalalala)!