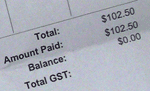 Today started off with a trip to the travel clinic downtown here in Cairns.  The doctor described  the back of my throat as "ferocious."   He didn't say too much otherwise and said I should be good to dive tomorrow since I can pop my ears.  If I'm not feeling up to the dive tomorrow, I'll at least get another chance the next day.  But I was in and out in 10 minutes.  Leaving with a pack of antibiotics and a bill of $102.50 AUD.  Oh the fun.
I didn't use my MasterCard… I used my Visa.  So no "Priceless" jokes! 🙂
"Everywhere you want to be" jokes are okay.