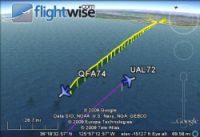 Kirk here again.
I'm trying to find out how to embed the tracking map in this post. But I can't get it to work just yet. Ugh.
Instead, download and install Google Earth. Then download the following KML file (geH1702530.kml) to load in Google Earth.
With this, you'll be to track our flight live in 3D with Google Earth courtesy of Flightwise.com. Of course that won't happen till we leave.
We depart tonight (Nov 25) at 10:50pm from SFO on Qantas Flight 74, arriving at SYD Friday morning (Nov 26) at 8:25am. Almost 15 hours of flying fun!
If you don't want to install Google Earth, here are a couple real time tracking links you can view in your browser.
http://flightaware.com/live/flight/QFA74
http://www.flightstats.com/go/FlightTracker/flightTracker.do?id=176853772
Also, Here is a great link for a list of sites that do live flight tracking: http://www.thirtythousandfeet.com/track.htm