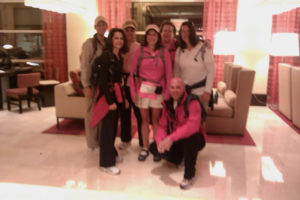 The weekend of July 10+11, 2010 will remain a very memorable one for many people. And for my friends Alisa, Kristina, Clae, Teri, Stephanie, Linda and me, it will always be remembered as a (total over over 101,000) small steps for each of us, but a large step towards finding a cure for Breast Cancer!
As team "Hope For Hooters", the 7 of us had raised a total of just under $14,000 for the cause! A very big Thank you to all those who donated! We also walked a total of 280+ miles in just 2 days, including 6 full marathons, and 8 half marathons! My pedometer counted exactly 101,000 steps and even though the full distance was planned to be 39,3 miles, the organizers admitted to a couple of extra miles (day 1) along the way. I've lost count of the feet/yards/miles of blister band aids, moleskin, tape and more that got wrapped around our team's feet, but withing just 1-2 days after the weekend, we were all able to walk again (regular distances only).
The Avon Walk 2010 was also very successful in contributing to the cause: over 2,500 walkers raised over $5.5 million! Several local (Bay Area) institutions received shares of that amount, including hospitals, research teams and more.
During our walk on Saturday and Sunday, we enjoyed seeing some beautiful San Francisco sites along the route. We walked over the Golden Gate Bridge twice, through Fort Baker and along the gorgeous waterfront in Sausalito.  Crossing the Presidio and Golden Gate Park led us to the Castro with exciting sights, followed by the Mission district offering spectacular views of the city skyline. Making our way up and down the hills towards Daly City, our final stop was at the Crocker Amazon Park just north of there. Day 2 started back up in the south of the city, leading us back to the Mission district and to Alamo Square Park,  where we took lunch directly across from the Painted Ladies. We walked on the Embarcadero and finished at the beautiful Ceremonies site of Fort Mason.
Plenty of volunteers along the route kept us motivated to keep going, including the San Jose Bike Cops, the youth group, families & friends and many, many more!
The photos in the Gallery below show only a fraction of the sights and support we've seen & experienced over this motivational weekend. As our team got split up into smaller sub-teams based on walking pace on both days, I have only very few pictures of my friends who I did not have the opportunity to walk with directly. Kristina has more pictures available on her website … check it out!
And now, here are mine … Enjoy!