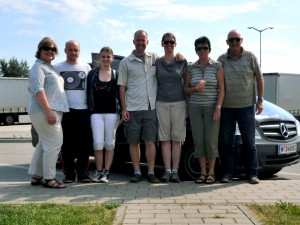 It is time to head west, and so the minivan gets filled to the last spot – Rainer & Heidi, Pat, Kirk & Andrea, Kirk, Phillip & Lena, plus luggage, gifts and more! We leave Gablitz and enjoy our leisurely drive through the Wachau – "Austria's Napa Valley", the most famous wine region in the country, following the Danube river.
Once we reach Melk, we change pace and hop on the freeway, which will take us to the German border, where the no-speed limit-Autobahn awaits. At 100 mph, the countryside flies by our windows and we reach the Austrian border to Vorarlberg (the westernmost state in Austria) in only a few hours.
It's time to say hello to Tina & Charly, looking calm & relaxed less than 48 hours before their "I do's", ho are already hosting Sabine & Jon as well as Baerbel who arrived earlier. It's family time!