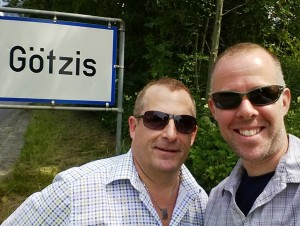 So many people, so many plans!
Everyone gets to do what they want to do today – while Charly takes Kirk to the "Fruehschoppen" and fire department parade in the next town over, Sabine & Jon opt for a hike on the Pfaender (Bregenz) while Rainer & Heide with Pat and Baerbel opt for the Karren (Dornbirn). With everyone gone, Tina and I get to catch up with two of my girlfriends from high school who are coming over to chat!
Over the course of the afternoon, everyone makes their way back to Tina & Charly's place, and also aunt & uncle (Christine & Norbert) arrive. Only cousin Alex & Alex are missing … they will not arrive until Monday. With everyone in town, we head out to the Schattenburg (castle from the 13th century) in Feldkirch (where we went to high school many years ago) for sinner. They serve a foot-long Schnitzel … who could resist!