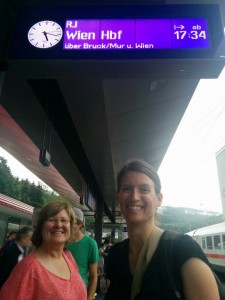 We're ready to leave Italy. Finito … it's hot, humid and over 80 degrees as early as 5am. Things are getting nasty with this weather.
We depart our flat at 7:30am and head towards the Vaporetto station, to catch our boat to Tronchetto, the island where the bus station is located. From here, our InterCity Bus will depart later this morning and take us to Villach in Southern Austria.
It's a nice, quiet 3 ½ hr bus ride, and while we get some heavy rain at times, the sky has cleared up again by the time we arrive.
After a quick change from the bus onto the train, we are ready to ride it all the way to Vienna's new main station (Hauptbahnhof). All is good until shortly before Leoben (approx. 2 hrs into the 4 ½ hr ride); the train conductor announces that this train will stop in Leoben and will go no further.
The tracks have been flooded between Leoben and the next station, and there is no getting through. The heatwave over Austria finally came to a crushing end the prior night and brought rain, heavy winds and hail to the area, causing havoc to transportation. The OeBB are usually pretty quick with organizing buses to shuttle travelers to the next available train/station, but given that the roads are flooded as well, that won't work. So we are asked to sit back and wait … and we do.
After about an hour, we learn that no train will continue in our direction all day, and we need to get on a different train, take it for 1 stop, then get on a bus to get to Linz and from there take a regular train to Vienna (West station).
Not a great route solution, but we change trains anyways. Then wait for its departure.
And just before it's supposed to leave, yet another announcements has us jump up and out to catch the train on the opposite platform, which will take us directly to Vienna – only 2 ½ hrs late! I'm impressed!
When we finally make it to Vienna, my parents are readily waiting for us at the station, for pick up and transport home … (we later hear about the tornado that touched down just outside of nice earlier that day!)