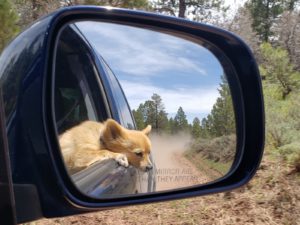 Day 14 (Friday, May 14, 2021)
It is time to head back into cellphone-and-internet-free areas of southeastern Utah and to my all-time favorite park: Natural Bridges National Monument! Located off Hwy 95 just under an hour from Blanding, we get there by midday. Ideally, I'd like us to stay inside the park again, but as we approach the campground the sign already shows that all 13 sites are occupied.
Prepared for this, we head back out a couple of miles, to the dirt-road turnoff onto Deer Flat Road (FR 254) into Burch Canyon. The FreeCampsites.net app noted several dispersed camp sites to be within the first mile off the NBNM road (Hwy 275), a few of them already take, the others not quite what we're looking for. A mile into the canyon, we find a site that might do it … we park the trailer but keep going further, looking for more sites – and find a spectacular one open about 3.5 miles up the dirt road. So back we go, pick up the trailer and drag it over humps and bumps, through a couple of washed out canyon riverbeds and over some rocky terrain (Kirk's driving, I'll keep my eyes and ears closed) up to our home for the next 4 nights! The view right behind our trailer opens up over the entire area of and around Natural Bridges NM all the way to the Glen Canyon NRA!
Day 15 (Saturday, May 15, 2021)
Gotta love exploring new sights – and so this first day out here we spend visiting Bears Ears National Monument. How we had not heard of before, I do not know, but the great maps and info flyers I had picked up in Blanding guide us up the hills on the neighboring dirt road – Elk Mountain Road (FR 228), also off Hwy 275 winds up the side of the mountain overlooking Deer Flat Rd, up Elk Ridge.
The namesake and heart of the landscape, Bears Ears Buttes (twin buttes) stand over 8,700 feet in elevation. They are sacred to many American Indian tribes who share spiritual connections to the area. About 6 miles up the road crosses right between the two buttes and allows for great views in multiple directions.
Further on we stop at the Arch Canyon Overview – a few steps off the road, the view opens up to the vast canyon below. Then, we continue on the drive east, until we reach Blanding after several more hill climbs and descends.
On the way back towards our camp, we take a break to check out the Mule Canyon Ruins and Kiva, a roadside archeology stop with interpretive information which provides a great sense of the types of surface and underground structures built by the Ancestral Pueblo0ans 700 years ago.
Day 16 (Sunday, May 16, 2021
Today is one of the highlights of our trip – a day at Natural Bridges! Discovered in 1883 by prospector Cass Hite on his search for gold while wandering up White Canyon from his base camp along the Colorado River, he instead found three magnificent bridges water had sculpted from stone. In 1904 National Geographic Magazine publicized the bridges; in 1908 President Roosevelt proclaimed Natural Bridges National Monument, creating Utah's first National Park System area.
In 1909, when the park was enlarged to protect nearby Puebloan structures, the bridges were named Sipapu, Kachina and Owachomo, the Hopi words for "place of emergence" (the entryway by which Hopi ancestors came into this world), rock art symbols (that resemble symbols commonly used on kachina dolls) and "rock mound" (a feature atop the bridge's east abutment).
While we stop at all 3 bridge viewpoints, we'll hike down towards only two of them. With J.T. in the truck with us, we can only bring her as far as the paved (view) trails go, while we have to split up for the trails.
I get to hike down towards Sipapu bridge, while Kirk and J.T. wait in the truck. To shorten their wait, I'm not hiking all the way down to the canyon floor to look up to the bridge, but only down halfway, to where a rock ledge provides a great view of the bridge. Sipapu is the world's 2nd largest natural bridge (only Rainbow Bridge in Glen Canyon is bigger). In Hopi mythology, a "sipapu" is a gateway through which souls may pass to the spirit world. The trail is the steepest in the park, including metal staircases and wooden ladders to aid in the descent. If NBNM wasn't my favorite park already, this hike and bridge would make it #1. I'm already planning for our next visit, when I'll figure out how Kirk and I can both hike the full loop to see all three bridges from the canyon floor!
We skip the Horsecollar Ruin Overlook – as we had done that hike on our last visit in 2012 already – and stop to look over the Kachina Bridge from the viewpoint. Once at Owachomo Bridge, it's Kirk turn to hike down towards the bridge while I wait with J.T. in the truck. Kirk and I had done this hike (the shortest of the 3 bridge hikes) back in 2012 as well, so at least I know what he's seeing down there! From this overlook, one can see the "bears Ears" twin buttes break the eastern horizon. The original road to Natural Bridges passed between these buttes, ending across the canyon from Owachomo Bridge at the original visitor center (no longer exists).
Day 17 (Monday, May 17, 2021)
Since we've been crossing a canyon/wash every time we drive to/from our campsite along the dirt road, we decided this was a canyon worth exploring – and today is the day for it. Just about 1.5 miles south of our site, we park the truck in a small site right next to the wash bed and start our hike down the canyon. With no recent (relevant) rainfall, the ground is dry and the risk of flash floods zero. The few drops that came down a couple of nights ago didn't do anything to the dry area around us.
It's a spectacular hike including some climbing over boulders, lifting J.T. down ledges that are far too high to jump, through sand, gravel, over smooth rock and even a tiny puddle of water (with a ton of drowned moths in it). Spring is still in full bloom here in the high desert, with flowers in yellows, reds and purple along the way, vying for the weird-looking little bee species' attention. After about a 45 minute hike downstream and a short break, we head back up again to return to our site for a relaxing afternoon on our last day in the area.