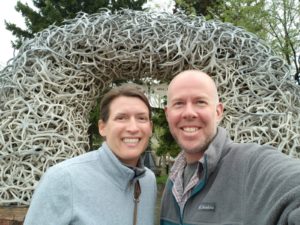 Day 18 (Tuesday, May 18, 2021)
The next several days will be spend driving north, as we're making our way from southeastern Utah to northwestern Wyoming, for part two of our trip. But one thing after the other … Tuesday has us pack up our very private campsite outside Natural Bridges NM and head north on Hwy 95, towards and across the Colorado River through the Glen Canyon National Recreation Area. This drive is another highlight of our route – and we'll surely be back on a future trip! So many options to camp along the route, ever-changing rock formations beautiful scenery and almost nobody else around!
Once we get to Hanksville, UT and turn west onto Hwy 24, we're back on familiar territory. Just a few months ago, our Utah trip brought us through here and we retrace our steps as we head through Capitol Reef National Park and into the sunset. Rather than turning south like last fall, we continue on Hwy 24 all the way to Loa, UT, where we stop for the night in a "boondocking site" at the Fremont River RV Park – a small spot next to the office, with no hook ups.
Day 19 (Wednesday, May 19, 2021)
Truck & trailer fully refueled we get back on the road the next morning, heading north through central Utah, back into civilization including freeways, shopping at big box stores and fast-food lunch. In Provo we head northeast into the mountains and find our next stop not too far past Park City (no time or snow for skiing here today). Echo Island RV Park in Coalville, UT is offering a full-hook up site including weekday pre-season discount that's calling my name … deer strolling through our site just before a quick thunderstorm blows through adds to the ambiance, despite being just off the freeway.
Day 20 (Thursday, May 20, 2021)
A third day of driving ahead of us (since we decided to split our drive up north into 3 days instead of pushing through in only 2) and we're going to see as many state border crossings as one can possibly fit into one day! While you might think there's not that many states between Utah (UT – our starting point) and Wyoming (WY – our destination), our route will have us cross into WY early on (I-80), before heading right back into UT as we drive north on Hwy 16, and back into WY (on Hwy 30), then up into Idaho (ID) as we straddle the border on Hwy 89 and return to WY for the last stretch of the day.
Not to be missed in all the border frenzy: the world's largest antler arch in Afton, WY!
Only about a half hour south of Jackson, WY and the entrance to Grand Teton National Park, we grab a spot at Wolf Creek Campground outside Alpine, WY, along the Snake River. Be Bear Aware! is the serious motto from here on out, as we are in bear country.
Day 21 (Friday, May 21, 2021)
Today is the first day where the weather is turning on us. As we're heading towards Jackson, WY for lunch, rain starts pouring down. This – in addition to the narrow (side) streets in downtown Jackson – are not helping our search for a lunch spot. But Kirk does find a place to park just a few blocks from the town square and while J.T. stays in the trailer, we head out into the rain on our quest to 1. See the 4 Antler Arches at Jackson Square and 2. Pick up lunch (including an Elk Sausage Sandwich) which we take back to the trailer to eat.
Refueled we head up north into Grand Teton National Park, our destination for the next three nights.