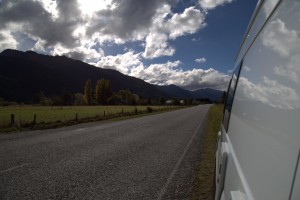 It's our 13th day in New Zealand and 11th on the road. We begin the final leg of our left-side-of-the-road journey to Queenstown today.
Haast, last night's stay, is the entrance to Mount Aspiring National Park which has over a dozen stops along the way for views and hikes. The downpour of on and off rain from last night continues through the morning part of our drive.
While the rain puts a bit of a damper on many of the great views we would have seen, it makes for really impressive and powerful waterfalls. There are hundreds of them right along the edges of the road. Some are cute spouts of water, while others are absolutely enormous and gushing onto the roadway. Workers were making repairs to one section near Haast Pass due to major road damage caused by the storms. They've been closing the road overnight to make repairs.
We stopped at several of the highlighted stops through the park: a half hour walk to Roaring Billy waterfall (in full force), followed by a quick stop at Thunder Creek Falls and the Fantail Falls. On the Eastern side of the pass, the scenery changes drastically and we stop for one more bush walk at Cameron Creek, before reaching Lake Wanaka and Lake Hawea.
Once past the town of Wanaka, we follow the Cardrona Valley Road to Crown Range (pass at 1,076 meters) from where we see the snowcapped peaks of The Remarkables mountain range, while getting hailed on in the blustery, freezing wind.
After making our way down the steep switchbacks we finally arrive in Queenstown, our final destination of the trip, and check in at our last camperpark: the Top 10 Holiday Park Creeksyde.