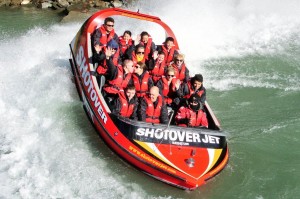 It is cold in QT. Very cold. But as the sun is making an appearance this morning, we are getting up and out rather quickly.
After a great breakfast at the Red Rock pub we are on to our great adventure of the day: a Shotover Jet Boat Ride down the Shotover River through its canyons with narrow rock walls and plenty of other obstacles. But if the Duke & Duchess of Cornwall can do it (a couple of weeks ago), we can do it too!
Our driver Wayne gives us an experience of a lifetime! While certainly not cheap, the ride is worth every penny, and the beautiful weather plus the autumn colours along the river's edge are only adding to the great time we have.
After we get back into town, we head out to explore the shops, sights and restaurants that Queenstown has to offer. Located on Lake Wakatipu, any water sport or similar is offered to visitors from around the world.
After warming up a bit and more strolling around, it's time for pre-dinner drinks at the 5 degrees Ice Bar. Quite a cool treat!
For dinner, we have picked Public Kitchen & Bar, which serves NZ cuisine family style. The leg of lamb, skirt steak and fida tart are delicious, as is my kiwi crush drink and Kirk's Killarabbit beer. Dessert finds just enough room in our stuffed bellies, and the chocolate cheesecake with fresh berries is not to be missed.
As we stroll back towards the campervan park, we suddenly see a familiar group fussing around outside the Ice Bar. It's the camera & production team-with-reporter group we ran into at the Craters of the Moon near Taupo (on the North Island, on Day 6)! Turns out the "reporter" is Sam Wang, a celebrity from Taiwan on a 21-day filming/reporting of NZ attractions. What a coincidence!
With that encounter we head back to the campervan to call it a night. However Kirk steps out for a bit to take photos of the night sky. We don't get to see the Southern Cross from back home.