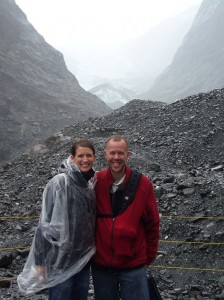 Day 11 starts out a bit sunny as we're getting our 2-monthiversary date heading into the town of Hokitika.
With the National Kiwi Centre located here, we make this the first stop. Right on time or the giant eel feeding, which seems to be more of a highlight than the 2 kiwis they house, we check out the place (a bit dinky). After the eels, we are excited to see the kiwis running around in their dark enclosures. The one male and one female had to be separated due to her getting a bit aggressive … but in any case we're getting to see both of them (and Kirk snatches a no-flash photo while no one is watching!).
After a couple of hot chocolates and some souvenir shopping we hop back into the van and get on the road. We head further south on Hwy 6 along the West Coast to Franz Josef Glacier. While our guidebook states that after the recent years' fast retreat of the glaciers, the next one on our list will provide better views than FJ. And since rain hasn't stopped us so far on this trip, the fine drizzle that is steadily increasing will not stop us now. Rain poncho for me, umbrella for Kirk (each one's choice), finally-dry-again hiking boots on and we're off to the 1 1/2 hour round trip hike to the glacier view.
And it rains. And it's also a bit windy. And definitely chilly. You get the picture. But the glacier is waiting for us, and so we hike on. Along the valley, always slightly uphill, past the Trident Falls and many other beautiful and splashing waterfalls, until we reach the final point of the trail. We can finally see the glacier (somewhat in the distance).
If you've never seen a glacier, it's great. If you have seen others or even been on one, this is just so-so. But it's Franz Josef! The name alone makes it worth it (for all my Austrian monarchy fans!).
On the hike back out, the rain now hits us from the behind, giving us nice 360-coverage. Chilly, but nevertheless happy, we return to the van and quickly turn up the heat to full blast.
Once in dry clothes again we get back on the road and head south. Just a bit further today to Fox Glacier, the next town down the coast. We finally check in at the Fox Glacier Holiday Park and call it a night.