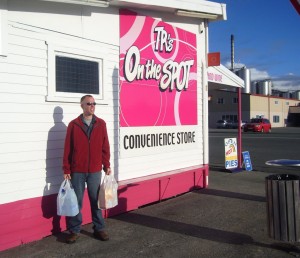 Today's adventure began as we left Greymouth and headed south on Highway 6. Eager to get away from the rain, we took a detour towards the center of the island to Arthur's Pass along Highway 73.
Highway 73 is a beautiful drive starting at the coast where the drive is flat, up to the sharp mountainous peaks New Zealand is known for.
Clouds seemed like fluffy cotton candy sticking to the alpine trees. Vegetation is green and very lush like you'd expect in a tropical climate, however this isn't a tropical climate. It's windy, damp, and quite cold. Just ask Andrea if she was cold.
The highlight of today is an unexpected friend we met just before Arthur's Pass. A friendly Kea perched on top of our van as we stopped at a scenic outlook. It's amazing at how curious and brave it is. We ended up playing peek-a-boo as I'd pop in and out of the van while it peeked down at me.
Turns out a few more kilometers up the hill near the peak of Arthur's Pass, is the home to Kea. Kea are the world's only mountain parrot and are endangered. It turns out they also really like to chew on things, especially all the trim and doo-dads on top of everyone's cars. We parked and took a few more photos at the Kea's home, where a half-dozen snacked on our campervan. Destructive little boogers. Read more about the Kea on Wikipedia.
We reached the summit and headed down the mountain a little bit where we stopped at Arthur's Pass Village for a bite to eat. Pizza, L&P (a New Zealand lemonish soda), and Tui (a New Zealand beer).
Since our plan was to stay on the west coast, we retraced our steps back Highway 6. The sun was getting ready to set, so we ended today's journey in Hokitika. The backdrop of tonight's campground… a milk factory.
At least we'll have fresh milk.