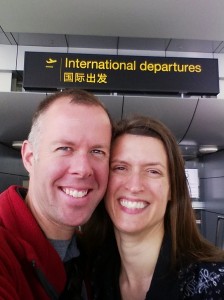 It's bright and early when the alarm comes on this morning, and it's time to get up, get ready and get going. After having completely lost the day of April 12th a couple of weeks ago, today April 28th will last a full 43 hours … with a big chunk of that going towards travel time.
By 8am we are at Queenstown Airport, dropping off our campervan and checking in for our flight to Auckland.
As we land in AUK just before midday (aka noon), we will have about 8.5 hours to kill before our onward trip to SFO and what better time to sum up our honeymoon experience!
The Highlights (in order of appearance):
Sky Tower in Auckland.
Seeing a Kiwi bird in the wild at Aroha Island Kiwi Preserve.
Seeing Pukeko birds all along the road.
Spotting Hunderwasser toilets in Kawakawa (a touch of home).
Experiencing full force rain and wind while hiking Karangahake Gorge (feeling the effects of the strongest storm in decades for the South Island!)
Visiting Craters of the Moon in Taupo, finding Taihape – the gumboot capital of the world.
Visiting the Mauri Sea Cave.
Experiencing the Punakaiki Rocks and Blowholes.
Watching Kea birds attack the soft parts of our camper at Arthur's Pass.
Hiking to Fox Glacier.
Exploring the sights along Haast Pass scenic highway.
Having a blast at the Shotover Jet Boat Ride.
Getting a rush on the Nevis Swing in Queenstown.
Plus running into Sam Wang, a celebrity in Taiwan, and his film crew three times.
…and last but not least seeing approximately one-third of the country's sheep population!
All this in about 16 days, with 11 days that included driving for a total of 2,487 km (approx. 1,554 mi), using 276 liters of petrol (diesel) for a gas mileage of 20.2 MPG.
What did we miss on our trip:
Getting a photo of a Pukeko bird, getting a photo of a Kiwi bird road sign, buying gumboots in Taihape, and seeing a sunrise in the Southern Alps (or much sun at all).
And what's left for our next visit to NZ?
90-mile beach, Milford Sound, whale watching, penguin watching, many more hikes, plus a nearly-full tube of DEET 80% sand fly protection.
Speaking of sand flies… If your guide book does not mention them, throw it away. If it does warn you, take it seriously serious. Bring DEET. Use DEET. Don't be fooled by their looks (like little fruit flies). Or the fact that they don't make a sound. Or the thought that heavy rain will keep them away. Or that long sleeves, pants and socks will protect you. Or hair. It won't. Their bites itch. Like hell. For days and days. And when you think you're over it, a couple more bites will pop up and start to itch. Believe me. I speak from experience.
Sand flies are horrible!
But otherwise, this country is safe! Safe to walk barefoot even in the cities. Safe to be out in the dark. Safe to forget your wallet on a counter – someone will bring it to you! And the Kiwis (the people here) are genuinely friendly. Gotta love that. Almost makes you forget the itchy ankles. Almost.