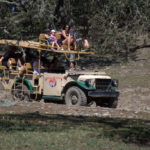 For Christmas last year,Kirk's mom Pat got 4 tickets to Safari West in the hills of Santa Rosa, and Mother's Day Sunday seems like the perfect day to redeem them!
The weather is perfect on this spring day, as Pat, Adam, Kirk & I arrive for our fascinating three-hour riding and walking adventure in Safari West's 400-acre preserve.
On the drive, we will get to come in contact with giraffes, gazelles, zebras, oryx, antelopes, cape buffalo, wildebeests and many other of the 700 animals in an exotic African Savannah setting.
What a treat …
If you're into wildlife, Safari West is highly recommended!