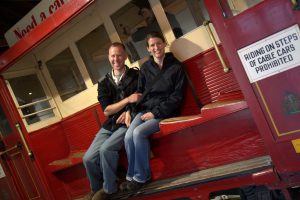 We can't believe a week has gone by already. It's been 7 days and we finally made it to Wellington, our last stop on the North Island.
Tonight we are staying at the closest campground to the ferry terminal which is a nice little place, but it's basically a parking lot with power hookups.
We leave bright and early tomorrow morning to catch the first ferry that departs at 7am. We have to get there before 6am, so we'll be up pretty early in the morning.
Today however was a 3 hour drive from Taihape. Not a whole lot of excitement along the way except for a grocery detour to pick up some meat and veggies to get us by the next few days.
As we were getting close to Wellington, we caught our first glimpse of the Tasman Sea which separates New Zealand from Australia. Not long after, we checked in to our campsite then headed to downtown Wellington to explore and eat.
Wellington is much more of an artsy city compared to Auckland, which is more business like. Our big adventure today was the Wellington Cable Car. It's a funicular and only one line with two cars unlike the cable car system in San Francisco. We took it to the top of the hill, walked around, enjoyed the view of the city and took it back down where we searched for dinner.
Dinner was great. We found an Irish pub type restaurant called J.J. Murphy & Co. Andrea had the Open Steak Sandwich while I had the Cottage Pie. While it was a bit pricey, the food was excellent and probably the best we've had in New Zealand so far.
Tomorrow will come early so it's bedtime for us. We will see you all tomorrow as we start our second week on the South Island.